Just like every other industry, the rental industry is also constantly evolving with the times. The foundation of the rental industry is based on continuous innovation, and therefore, rental companies need to keep rediscovering themselves with the times to stay in the race.

Imagine not having an insight into your finance or asset utilization. This could result in generating an inaccurate invoice which could lead to revenue loss for your rental business. So, how can you track equipment utilization to drive better investment decisions? With industry-specific analytics. Value-added solutions that offer measurable benefits for your customers are the future of the rental industry.

Equipping your rental company with the right insights across every stage of the value chain can not only help you make better business decisions but also put you ahead of the competition. Therefore, analytics tailored specially to the industry could be transformational.
As an industry expert with an experience of more than 17 years, our goal is to empower rental and industrial manufacturing organizations to maximize their business value with solutions catering to the Dynamics 365 space. With our Analytics for Rental solution, rental companies can optimize their operations across the entire value chain.

This article will discuss the need for analytics in the rental industry and how our no-code industry-specific analytics solution integrated with Dynamics 365 ERP can drive you toward excellence.
Why do equipment rental and industrial manufacturing companies need analytics?
A good analytics infrastructure is the need of the hour and with so much data everywhere, making sense of it is equally important. According to a study by EY, 93% of companies want to continue investing in analytics, especially with the advancements in the field over the last few years.
With analytics defining growth and success in organizations, it is a no-brainer that industries such as equipment rental and industrial manufacturing can leverage it to improve their financials and asset utilization, in turn boosting their overall business performance.
As the rental market moves toward the 'As-a-service' business model, it becomes even more critical that analytics is a part of your core business strategy. The model would likely generate 5x more data than product-driven organizations, creating a need for a robust and reliable data management/analytics solution. In addition, the rental industry typically includes a lot of planning, monitoring, and maintenance. Therefore, having something that helps to keep track and reduce complexity at every level of the rental lifecycle will yield better results.
Without real-time insights into ROI performance, you would never be able to pick out your poor-performing equipment or understand the reason behind it. Similarly, not knowing the outstanding delayed maintenance and breakdowns could lead to equipment ineffectiveness over time.

Let's look at some of the ways rental companies can take advantage of analytics:
Get insights into utilization rates and trends
Gain more visibility across your asset performance
Avoid overutilization of rental equipment
Ensure pricing efficiency based on the actual registered hours
Generate invoices based on the actual use of equipment
What should rental and manufacturing companies look for in an analytics solution?
Implementing analytics is not easy as it may seem. Most companies, including the big ones, fail to do so effectively. According to Gartner, about 85% of big data projects fail. It typically is time-consuming, requires technical knowledge support from specialized resources, and is not tailored to individual industry/department needs.
So, what are the market players looking for? To leverage industry standards and speed up the analytics journey to strengthen their success in the rental market, as setting analytics up and running requires a lot of time and effort. Also, understanding the complex table structures and translating those into meaningful information isn't something many can manage.
At To-Increase, we are trying to bridge this gap with our advanced analytics solutions, which are self-configurable, easy to set up, and eliminate the dependency on external factors. Therefore, a robust business intelligence tool with pre-packaged capabilities can be the right option. You need to look for:
Innovative ready-to-use templates for department/industry-specific insights
Analytics incorporated with BI best practices
A foundation for advanced & predictive analytics
Easy extension and customization based on needs
End-to-end enabled analytics, from data preparation to visualization
This is exactly what our Analytics for Rental has to offer - a transformative, industry-specific solution.
Here's a range of analytics insights that can be extracted from To-Increase's Analytics for Rental solution.
How can we help you with the right analytics solution?
With proven business knowledge backed by the best technical expertise, we understand how important it is to measure the right KPIs to drive your company toward success. The result of this is us foraying into the analytics and rental ERP space with our Analytics for Rental solution.
It is an all-inclusive analytics solution with industry-specific KPIs and BI capabilities that help rental companies up their game by leveraging powerful data-driven insights. The solution covers the entire rental value chain, right from rental-ready to maintenance, ensuring smooth end-to-end data management.
The solution gives business users much-needed control over their data, with simple, plug-and-play, and out-of-the-box analytics, without the need for any prior technical knowledge of writing code or generating reports.
Offering analytics explicitly tailored to the needs of the rental industry, here is what you can expect from Analytics for Rental:
Over 50 pre-built metrics, including a combination of operational and strategic insights
10 detailed rental

dashboards

covering each stage of the rental value chain
Simplified deployment options – all you have to do is set up a few easy parameters
Drill-down insights into all aspects that impact a rental business
Informative reports and visualizations to help make sense of data easily
Here are sample dashboards on on-rent revenue and rental inventory fleet insights.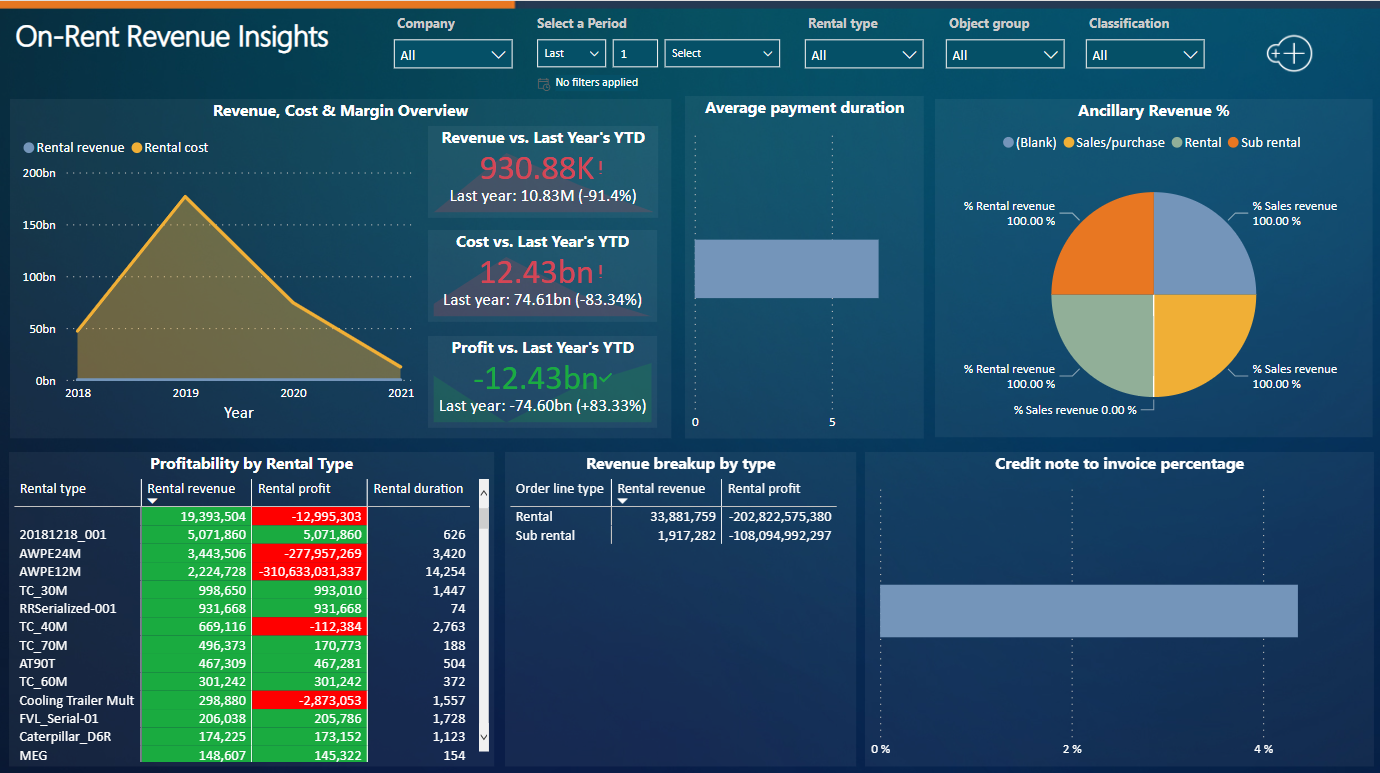 As a ready-to-use analytics solution, users are automatically entitled to business intelligence and data management best practices. In addition, in-built data preparation driven by our zero-code solution, Data Modeling Studio, embedded inside Dynamics 365 F&SCM, means less set-up time, and rental companies can get started on it instantly.
The video below can help you understand our no-code, Analytics for Rental solution a little better.
How can you implement Analytics for Rental?
The solution is a value-added proposition for rental companies and must be used in combination with our in-house rental-specific cloud-based software, DynaRent, embedded in Dynamic 365 F&SCM, which takes care of the entire rental value chain from lead to cash.
Built on Microsoft Dynamics 365 F&SCM stack flexibility and using data from both ERP and DynaRent, Analytics for Rental largely reduces external dependencies, making it purely business driven. Moreover, it uses Microsoft's Power BI for visualizations (while being compatible with others like Targit) and Azure data warehouse for constructing modeling logic.
It is one of the many industry/department-specific packages we offer as a part of our Business Analytics Suite, which helps simplify the complex journey to meaningful analytics. Find out what other industry packages we have, here.
The next steps
Pre-built tailored analytics that use industry best practices can enable you to get started on analytics immediately with actionable insights to help you make calculated predictions on every aspect of your rental value chain. This could be the way forward if you are looking to benefit from data-driven decision-making and enhance your asset performance, increase utilization efficiency, and facilitate better planning while saving time and money.
If you would like to dive deeper into our Analytics for Rental, the solution factsheet can help.
The factsheet covers:
The unique, industry-specific features the solution provides
Detailed insights into each dashboard covering the entire rental value chain
The outcomes you can expect from implementing the solution