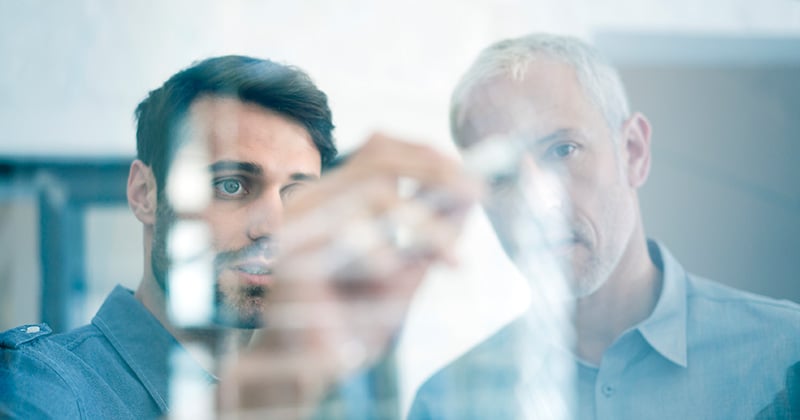 You could be using a great EDI solution, but your IT team could be spending 50% of their time remediating critical documents. It could be possible that there are errors in your EDI exchange that your solution cannot point out and needs constant monitoring, which is as time-consuming as manually exchanging business documents using email and fax. The goal of technology is to make things easier but that might not always be the case.
EDI is not the only piece of the puzzle to digitizing your supply chain document exchange. There could be other challenges blocking your path, such as data in too many unconnected systems, too many EDI partners to manage, and the inability to bypass the limitations of the ERP using your current solutions.
At To-Increase, we are an independent software provider and have been building easy-to-use, configurable solutions for Microsoft ERPs for over 17+ years. We have over 2200 customers in over 45 countries and have built solutions that help customers with their challenges across industries ranging from business intelligence to data governance.
Since we have built solutions for application integration and Electronic Data Interchange (EDI) – Connectivity Studio and EDI Studio respectively, we have often worked with customers looking to streamline their operations and digitize their supply chain.
In this blog, we will focus on:
Firstly, what is a digital supply chain?
Implementing one or more digital technologies to support a specific process is not the end of a supply chain. That is only half the battle won. We share some important elements that enable the success of a supply chain.
Reimagine your business communications
A digital supply chain is reimagining how you can automate business communication with your suppliers, 3PLs, and trading partner community and share important data in a fast and reliable way with minimal human intervention as possible.
If you are spending more time than necessary, trying to validate errors, or copying data manually between systems, then it is time to re-evaluate your current business setup.
Better relationships with customers and partners
The ideal digital supply chain is an automated business document exchange process that eliminates paper and speeds up document processing and payments, thereby improving customer and partner relationships.
It is end-to-end
A digital supply chain has no gaps. So, you could use a combination of multiple technologies to accomplish this goal, including EDI, webshops, marketplaces, APIs, and an integration engine. This ensures all operational and logistical processes are streamlined using an appropriate solution, and that your systems and applications are interconnected.
It requires change management
But technology aside, there is also a human side to a digital supply chain that requires a commitment to change and effective management of that change. It needs a change of mindset and clear communications that needs to be cascaded across the organization.
Benefits of a digital supply chain
Ensure improved accuracy

: Once you implement EDI and integration solutions, you will connect your application ecosystem, streamline the order to cash process, and notice an overall improvement in your supply chain processes.

Reduced effort and cost to manually correct errors

: If you have a system that flags errors in EDI and allows you to setup triggers that notify the right people, you can save a lot of time and money by investing in such a solution.

Happier customers and trading partners

: Once you automate the document exchange process and improve accuracy, you can respond to your customers quicker, improve operations and probably even deliver orders faster. The bottom line is happier customers!

Process consistency and reliability

: Once you switch to an automated EDI solution from a traditional manual setup you can reduce human errors and set up a process that is consistent. Even if someone from your team is absent or unavailable, it will not interrupt the consistency of the process.

Increase productivity and competitiveness

: Once you implement EDI and integration solutions, it ensures your team has time to focus on other important tasks. With an easy-to-use, configurable solution such as EDI Studio, even business users can correct any non-technical errors in the EDI document.
How to Achieve a Digital Supply Chain?
Building a digital supply chain requires time, commitment, and a plan. So, let's first look at the challenges before we share strategies to achieve a digital supply chain.
What are the roadblocks that can inhibit the success of a digital supply chain?
Lack of planning

: Without a plan with the right people involved, this can be a potential blocker for successful deployment and use of the solutions

Using an on-premise solution or between ERPs

: Going through an ERP change is a great time to start planning your digital supply chain. Moving to the cloud has several more benefits but if you are still developing foundational capabilities, it might be best to get up to speed and then begin planning your supply chain.

No organizational buy-in

: This is important for all the different groups within the organization that will use the solution, or it will hamper the success of building the process after the solutions have been implemented. To limit human interaction in document exchange, human initiative is the most important.

Lack of functional expertise

: A lot of times these integrations and automation projects stem from IT, although they would be more beneficial to the Customer Success, Finance, and Sales teams. It takes someone on the commercial side that understands how the organization works with different partners and customers to especially work on the planning stages. Without these insights, it is difficult to plan and implement solutions that will easily get organizational buy-in.

Inside-out perspective toward supply chain partners

: While it is great to focus on the capabilities of supply chain partners, it is also important to focus on your company's growth. So, evaluating a solution based on what your partners prefer might not necessarily work for your organization and team members.
Which strategies can help you succeed with your own digital supply chain?
Our biggest piece of advice to most of our prospects is to identify your biggest challenge when you set out to work on your strategy and prioritize a plan to knock out that challenge.
Set clear goals but with an open mindset
While it is great to have clear goals to work toward, there might be things outside your control, so keep an open mind. For example, you might have a goal to achieve Phase 1 of your digital supply chain in 3 months, but it might take a little longer than planned.
Work on a plan
To do this, you will have to first identify the capabilities of each department that will be involved, and the changes and effort required from them. Once you know this, you can work on a plan that is more likely to be successful.
Define your company's capacity
As part of your plan, it is crucial to understand your company's capacity to implement a project, especially if it is a big undertaking, as it will need organizational-buy in and commitment to succeed. This will help you set realistic timelines for smaller milestones and work toward those.
Define the right setup and solution



Evaluate solutions that fit your business requirements and have a higher chance of being successful based on your plan. Additionally, there could be scenarios specific to your industry that you would need to consider while evaluating and buying solutions. Based on that, you can define the required setup once you have shortlisted a solution.
Execute in a phased manner
Consider a phased implementation, especially if it is an ERP implementation or deploying a new solution with a large customer base. In our experience, most customers implement EDI and integration in Phase 1. In Phase 2, they look at setting up automation for middle-tier customers with inbound PDFs. And in Phase 3, they implement invoice automation and a supplier portal to simplify finances.
Control and master data sources and technologies
Prior to integration and implementing EDI, it is important to understand and identify what data is stored in which system or application and the people that access it. It might also help to evaluate whether you need to consider solutions to improve data entry, data quality, and master data management to your solution stack for D365.
Get your partners onboard
Getting your partners onboard is important, especially if you are a supplier, and so is understanding the commercial side of your business. The partners that manipulate these changes are instrumental in your success.
Best practices for a digital supply chain
When we talk to prospects and customers just starting out with EDI or even switching EDI solutions, we ask them to analyze their current setup and processes so that they can evaluate a solution based on a number of factors.
It would be wise to analyze your transaction landscape, the kinds of documents you exchange the most, the number of trading partners you work with, and which ones you work with the most. This will help you evaluate an EDI solution that can fulfill these business requirements. Next, you need to identify your digital and manual processes so that you can look for solutions besides EDI that will help you automate your supply chain.

EDI must be integrated into your ERP

to reap the benefits of leveraging data across business processes in purchasing, warehouse, and operations. A solution that fits into the daily routine using the same business logic as the ERP will have a quicker learning curve and will be easier to use for even business users.

An EDI solution should have seamless reporting, history tracking, and error fixing. EDI is meant to simplify business document exchange, so your solution should be able to quickly flag errors and allow you to track past transactions for easier reporting. Additionally, validating EDI transactions in the solution before you can share documents with trading partners will ensure accuracy.
Your EDI solution should integrate with your IT landscape and not just ERP. Integrating your EDI solution with other systems will help you streamline processes such as logistics, sales, etc., with integrations with your third-party logistics providers (3PL), customer relationship management (CRM), and warehouse management systems (WMS).
You need to consider all your trading partners that are not EDI capable and factor for that, so you might need to work with an EDI partner such as TIE Kinetix that can do non-EDI via PDFs documents.

Choose the right partner/s

with expertise that can help you get started. At the start, you might not have expertise in-house in any of the new solutions you plan to implement, so you want to ensure that you are working with knowledgeable Consultants that can help you achieve the goals and plans you have in mind.

Lastly, you want to invest in a flexible solution that can scale with you.
To-Increase and TIE Kinetix have partnered together to bring you an end-to-end EDI solution called EDI-2-FLOW that checks all of these boxes and can help you digitize your supply chain one hundred percent.
EDI-2-FLOW is the best of both worlds with an offering that includes the FLOW platform from TIE Kinetix and To-Increase's Business Integration suite, which comprises EDI Studio and Connectivity Studio for Microsoft Dynamics Finance & Operations/ Supply Chain Management (D365 F&O/SCM) solutions.
Are you ready to digitize your supply chain?
We hope this blog will serve as a starting point for your journey to digitizing your supply chain. We have to stress on a few key points to remember. Do not forget to set realistic timelines, evaluate a partner and a solution that is the right fit for your goals and plan, and do not hesitate to break up your project into phases if you expect it to be a complex one. If you follow these best practices and our strategies, we guarantee you will have a higher chance of achieving your goals.
And, if you use Dynamics 365 F&O/SCM and think our EDI-2-FLOW offering fits your goals, then feel free to schedule a demo or reach out to our business experts to explain your business requirements and current setup.
If you want to read more about EDI-2-FLOW and what we offer, do download our brochure from the link below.