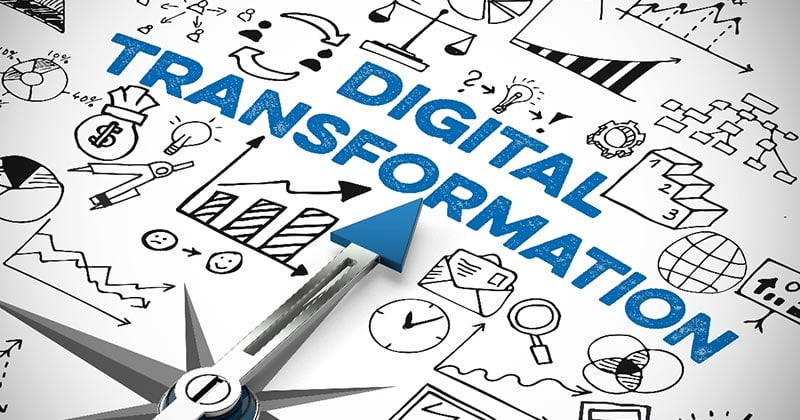 As AI, machine learning, and cloud technologies go mainstream, businesses are embracing digital transformation like never before. For most organizations, moving away from traditional on-premises systems to cloud-based applications has become an essential part of their business journey.
However, is adopting cloud services all that you need to digitally transform your business?
As an established Microsoft ISV specializing in the Dynamics space, we at To-Increase have helped many customers across industries fully leverage the potential of the cloud by offering a wide range of solutions that help them accelerate their digitalization efforts. A key enabler of this transformation is cloud integration, which offers you scalability, flexibility, and cost-efficiency.
In this blog, we explore what is the role of cloud integrations in business digitalization and how a well-planned and well-executed cloud integration can enable digital transformation.
The role of cloud integrations in digital transformation
According to Statista, by 2026, global digital transformation spending is forecast to reach 3.4 trillion U.S. dollars. Industries spearheading this appetite for digitalization are construction and manufacturing. And this widespread interest in technological solutions is due to the fact that digitalization adds to employee productivity and business profitability, and spurs company growth significantly.
Cloud integration plays a pivotal role in this digitalized environment, as it enables businesses to connect with each other and share data seamlessly. It allows you to join on-premises systems with cloud-based systems and integrate disparate applications, data, and services. In fact, by evolving into cloud services, integrations become more valuable and manageable.
Let's dive into some of the key benefits of cloud integration that can help you digitally transform your business.
How cloud integrations enable digital transformation
1. Provides a simplified and gradual shift
In the software tradition that many of today's working professionals are familiar with, large and complex integrations are generally custom-built by technical experts who are knowledgeable about the technologies that need to be connected. Other than requesting for better systems' connectivity and living with the outcome, business users are usually not involved with integrations.
However, all that changes with cloud computing — a widespread and still growing practice. When you move to the cloud, you can use a more gradual but less disruptive approach for deploying, monitoring, and maintaining huge, all-in-one ERP and comparable systems. Teams as well as processes can be supported as discrete workloads served by cloud-based solutions. Which means, you empower your business users to take a more active participation in data integrations, rather than take a back seat and let IT handle the processes end-to-end.
Moreover, with cloud integrations, you get to focus on business areas such as production, sales, human resources, or the warehouse, instead of relying solely on a giant software monolith. Microsoft Dynamics 365 is an example of this simplified architecture, where you can deploy one workload at a time.
2. Helps drive actions and processes
Unlike on-premises set ups that only allow you to see information, the cloud's open architectures makes it comparatively easier to create integrations between different solutions and business activities, which makes it a more wide-reaching and versatile option for true digital transformation. Intelligent cloud integrations not only transfer the data but also triggers the next appropriate action.
For example, when a new employee record is created in an HRMS application, it triggers both a provisioning as well as an access request to the IT department. Additionally, it automatically grants the necessary access rights that are required by all employees within the company. Or, to take the example of an order created in the e-commerce system, it triggers multiple actions within the business infrastructure. Firstly, it generates an invoice within the finance module of the ERP system. Then, it simultaneously initiates an approval request to the designated individual. Also, a fulfillment request is sent to the warehouse team, ensuring the prompt processing and delivery of the ordered items.
These examples prove that integrations are more effective and easier to accomplish and maintain in the cloud. When cloud integrations drive action, they can help companies simplify and transform the way they do business. These integrations become even more valuable when they are also configurable, since it empowers business users who lack technical expertise to create and implement them. This propels the whole team, and by extension, the entire organization towards faster digitalization.
3. Enables faster integrations and data migrations
Undertaking application integrations using Microsoft's Data Management Framework or attempting to migrate data from any legacy system to a modern ERP system requires strategic planning. This is because, more often than not, implementation projects fail due to its complex, expensive, and time-consuming nature. In order to import data from multiple legal entities, you need to perform different integrations, one after the other. And if you need to connect with ISV solutions in the cloud, you would additionally require the services of a developer who knows how to create integrations using Azure tools like Logic Apps or Azure services and who can customize these integrations for you.
A cloud-ready, advanced application integration and data migration software, like To-Increase Connectivity Studio, can help you create standardized and easily configurable integrations, both on-premise as well as on the cloud. Connectivity Studio has been proven effective in a Microsoft Dynamics 365 environment, and it enables you to share and repurpose standard integrations and data migrations as cloud-based services using standard templates.
For example, instead of going through the process of purchasing and deploying an integration solution for your ERP and PLM systems, you can opt for a cloud-based service. With this approach, you can activate the service within minutes and pay for its usage. All you need to do is to provide the integration service with relevant information about your systems and data volumes, and you will receive a cost estimate. Once you're ready, the service takes care of loading the data and metadata models, implementing the integration, validating the results, and notifying you when it's completed.
Similarly, when it comes to data migrations, the cloud resource takes over the task of mapping after you have uploaded or provided access to your data files. Once you've made your payment and confirmed that the migration should proceed, the tool executes the end-to-end migration process. This cloud-based approach is applicable not only to your transactional and historical data but also to your setup data, master data, and open transactional data.
4.
Ensures a future-proof business model
With an enterprise-ready solution like Connectivity Studio, you can help your business scale ambitiously and ensure that common business processes become faster and more reliable. In fact, when cloud integrations and data migrations become as affordable and efficient as using popular cloud resources like Office 365, businesses will use and benefit from them at a much greater scale in the future. Since business users and technical users will experience less burden, organizations will be able to adapt to their evolving needs at a faster pace. And although there are chances that you may have to do some customizations to match your specific business needs, a low-code or no-code application integration and data migration solution may still be the better choice for a future-ready business model.
[Related Reading: Learn what are the pros and cons of building an integration solution in-house versus implementing an enterprise-ready, cloud-friendly software for your integration and data migration needs in this blog.]
Would you like to explore our dynamic solution for integrations and data migrations on Dynamics 365?
If you're considering an application integration and data migration solution that's most suited to your specific business needs, you may be interested in reading about the 12 amazing benefits of our popular Connectivity Studio for Dynamics 365 (F&O, BC, AX, and NAV) that helps you scale your business, drive growth, and enable successful digital transformation.
To learn more about complex integration scenarios within Dynamics 365 and AX, and to understand how you can solve data integration challenges in your organization, read our blog linked below.