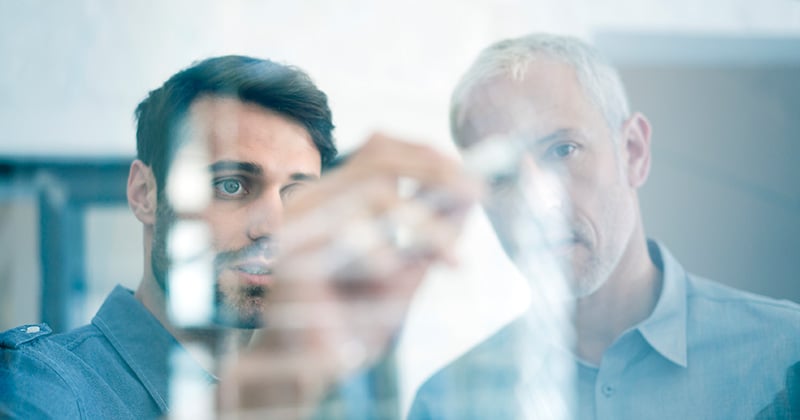 It can be a mammoth task to manage all your isolated business systems if they are not currently connected to your ERP. Additionally, streamlining operations and making impactful business decisions is challenging if you do not have an integration platform connecting all your data from your ERP to the business systems. And if you're relying on your IT team to work on this, it means a lot of development, time, and effort that could probably be spent on other critical tasks.
At To-Increase, we understand these challenges as we have been developing value-added solutions for Microsoft for the last 17 years. To ensure data synchronization, data mapping, and data migration between the ERP and business systems, we have developed an integration solution that is built within the Microsoft D365 environment to help our customers truly achieve data transformation.
If you are looking to integrate your Microsoft Dynamics 365 ERP with your business systems, then Connectivity Studio might just be the tool you are looking for. In this blog, we share the features, benefits, limitations, pricing, and other details that will help you determine whether Connectivity Studio is the right integration platform for your business or not.
One important thing to note: Although To-Increase offers the solution for Dynamics 365 FO, D365 BC, AX and NAV, in this blog we will be focusing on the D365 version.
What is Connectivity Studio?
Connectivity Studio is an advanced data migration, mapping, and integration tool focused 100 percent on configuration and built inside Microsoft's D365 ERP. The solution simplifies the setup and management of integrations between your ERP and other business systems.
Connectivity Studio helps migrate your data from any legacy system - including Microsoft Dynamics 2009, and 2012 - to Dynamics 365 for Operations.
Connectivity Studio integrates with a wide variety of systems, including different formats and protocols.
Examples of integration scenarios of existing customers:
integration with mobile field-service solutions

syncing of data across eCommerce and multi-channel retail

integration with PLM systems

managing the interactions and updates between the back office and retail location

EAI integration with Dell Boomi
It is important to note that technical integrations can be implemented by various means. Some examples below:
Microsoft Dynamics 365 for Operations database

file system (folders)

web services

email

data connection with ODBC
What are some of the features of Connectivity Studio?
Configuration-based: With Connectivity Studio, your IT team can create integrations from and to D365 by configuration and not development. By using the standardized configuration, your integrations will go quickly and smoothly.
Tables, views, and entities: Connectivity Studio allows you to use tables, views, entities, or a combination of all to configure integrations. This adds a lot of flexibility to configure your integrations.
Demo of the mapping feature for Connectivity Studio
Field mapping: Connectivity Studio offers a form mapping function. The user has to select the exact corresponding field on a form for the original input fields for the integration on the form. Once done, the mapping is created.
Staging tables: For any kind of changes to data or corrections, incoming data can be stored in a staging table prior to import. The data can be edited or validated in the staging area before processing.
Event log: In case of any changes, an event log can be applied for each connection. The database triggers enable the log to detect insertions, deletions, modifications, and renaming. And the solution will synchronize just the changes in data.
Demo of the event trigger feature
Data records: The system logs all data exchanges in the message history for every integration, so this also makes data reporting easier.
Support for several document formats: The document formats supported include Delimiter-based (CSV), flat file, fixed text, ODBC using the Azure Service Bus, Microsoft Excel, Microsoft Word, EDI, and XML file (with XSD or XSLT). Additionally, custom formats can be used to meet specific formats.
Document actions: Perform a variety of actions on integration documents, such as pre-processing, exchange, and post-processing steps. Standard available actions include email, compression, conversion, copy/move, send/receive, and Azure Blob storage, and SFTP.
Business logic: When you integrate your systems with Connectivity Studio, validations, and defaults on selections are made automatically thanks to the platform's business logic rules. This is a major value-add for your EDI or electronic data interchange documents exchanged.
Tutorials: Besides the workshop and training provided by our delivery team, we do have tutorials within the software to help you get started.

Connectivity Monitor: Using our application built on the Dataverse leveraging the Power platform, you can easily track the health of your business-critical integrations on the go from mobile phones and tablets. The app allows you to track slow and lagging integrations and take quick action when integrations fail.

What are the benefits of Connectivity Studio?
Easy to use
With Connectivity Studio you can make integrations in a synchronous and asynchronous way. These integrations can be configured without the need for any coding or development and can be done in-house.
Flexible mapping
To tackle the difficulty of being unable to use any field or any table in the data entities provided by Microsoft, To-Increase developed Connectivity Studio. As our solution is able to use any table, view, and data entities in D365 F&O, you can configure the most complex integrations. For example, the mapping of your trading partners for EDI communication as well. To-Increase also offers solutions for EDI (EDI Studio) bundled with Connectivity Studio.
Works with upgrades
If Microsoft adds or updates a functionality, then there is no need for development. As our solution offers you the flexibility to use (custom) tables, or a combination of multiple standard tables for integrations even with the new upgrades to data entities, without any stress of development.
Data segregation is possible
With Dynamic 365 you can maintain different ledger accounts separately, also known as companies, into one system. Segregating this data can be a challenging task during an integration. In a data migration scenario, you would need to import data into multiple companies at the same time. Connectivity Studio can help you import data into multiple companies simultaneously using a mapping specific to each company.
Manage multiple data scenarios and more
You might have different data fields in different business systems. During integrations and data transfers, using Connectivity Studio, you can make changes on the go. For each field mapping, you can set up constants, defaults, conversions, and transformations to ensure smooth integration and data synchronization between business systems.
Seamless data syncing
Connectivity Studio is the engine that transfers data in and out of Dynamics 365 F&O. With our solution, using synchronous and asynchronous communication transfer, you can import and sync large amounts of data in near-real-time.
Integration tracking and easy collaboration
Our Connectivity Monitor app allows you to track the impact of integration failures and its performance within your 'Companies' and 'Applications' and trigger resolution actions. Using the app, you can set up notifications for integration errors in advance. When an integration fails you can check the message log details and track the failed URL on the app. This ensures minimal downtime and losses as your mean time to repair the error is reduced with an integration monitoring application.
What are the limitations of Connectivity Studio?
Integrated with single ERP
Since we are built within Microsoft D365, Connectivity Studio cannot be configured for the integration of any other ERP and business systems. We are soon expanding beyond D365 F&O though. So, keep a lookout for that.
There are direct connections possible to other ERPs/business systems, for example: via ODBC, web services, or other options.
No standard integrations
To-Increase offers tutorials so that our customers can quickly get started with configuration. However, currently, we do not have any standard templates as we do for EDI communication in our EDI Studio solution.
Large data exports
Currently, Connectivity Studio does not offer large data exports, but we offer a solution that can help you with large data exports – Data Modeling Studio (DMS). DMS can perform exports or incremental exports and you can use it to also create tables in BYOD (bring your own database).
Import support
Currently, we do not offer local file import support. However, we use other methods to share files such as Sharepoint interfacing.
How much does Connectivity Studio cost?
Our solutions are priced per company, per month. So, if you are looking at a multi-company integration scenario, the cost works out better. 
The price for Connectivity Studio works out to €1300 per month for the base cost and additionally the cost is €350 per company for the first ten companies, per month. If your requirement ranges for more than 10 companies, the solution cost drops significantly since the cost for 11-20 companies is €150 per company, per month.
So, the cost for 14 companies, for example, would be €1300 (base cost) + 3500 (first 10 companies) + 600 (company 11-14) per month, which works out to €5400 per month.
| | | | |
| --- | --- | --- | --- |
| Base cost | 1-10 companies | 11-20 companies | Total |
| 1300 | 350*10 | 150*4 | 5400 per month for 14 companies. |
Additionally, if you are also interested in EDI Studio or MDM Studio and purchase Connectivity Studio at the same time, you can avail a 50% discount on Connectivity Studio if purchased in a single order.
Our annual licensing fees also include product upgrades and Essential support with minimal tickets.
Please note: Dollar prices are a direct conversion of the euro prices. You can reach out to our experts if you have any questions.
Is Connectivity Studio the right integration platform for you?
Connectivity Studio would be a good fit for you if, you are looking for a versatile solution that can not only help you integrate your ERP and business systems but can also manage data mapping and data migration. It is a configuration-based, DIY solution, so you do need your IT team to manage the platform and configure integrations. However, if you are looking at standard integrations inside the tool, then Connectivity Studio would not be the best fit for your organization.
If you want more information on Connectivity Studio you could download our factsheet. If you are also interested in any of our BIS solutions, you can read our review on our Electronic Data Interchange (EDI) solution or download our Master Data Management factsheet.
If you have any unanswered questions or are interested in learning more about Connectivity Studio, go ahead and reach out to our experts. They can guide you and help you with best-case business scenarios based on your current business setup and requirements.