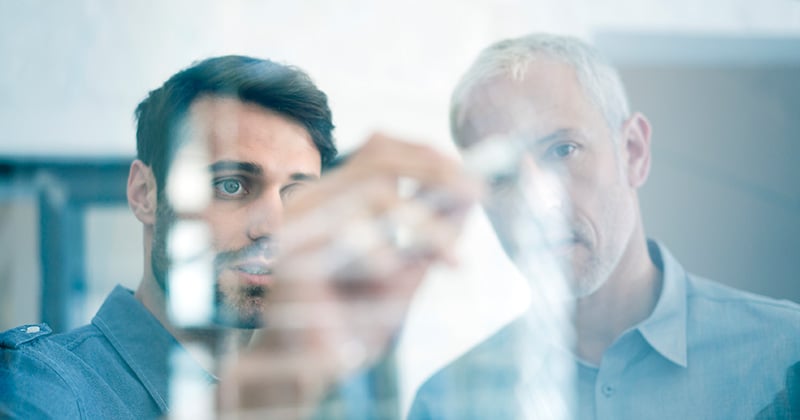 You have probably read our factsheet and/or ebooks but are still undecided about our EDI solution, then reading this blog might help you move closer to making an informed decision.
While we do encourage our customers to share their feedback, we have put together this blog to help prospects evaluate us based on not only the features and benefits of our solution but also the limitations and our pricing for a straightforward review of our solution. You will find us listed on Microsoft's Appsource but might not find reviews of our solution on other websites such as G2 yet.
We understand that we might not be the best fit for every reader, but we are hoping we help our customers make an informed choice and understand what aspects differentiate us from our competition.
What is EDI Studio?
EDI Studio is an embedded Electronic Data Interchange (EDI) solution for Microsoft Dynamics 365 for Finance and Operations (F&O) and Supply Chain Management (SCM) from To-Increase. The solution helps companies streamline their communications with their customers, and trading partners through electronic data interchange (EDI).
To-Increase offers Cloud and on-premise deployment of the solution. EDI Studio is implemented using Connectivity Studio (integration to D365) that is an essential building block that simplifies integrations between EDI, your ERP, and other business systems.
EDI Studio has the capability to efficiently handle large order volumes, validate incoming documents such as invoices and purchase orders, and supports 3PL warehousing. With EDI Studio you can enable quick, accurate, and touchless document handling with EDI and run an efficient business from order-to-cash and purchase-to-pay, including 3PL or VMI processes as and when required.
What are the features of EDI Studio?
EDI message formats: The solution supports several electronic document formats including EDIFACT (Europe), ANSI X12 (United States), fixed text, and XML.

Configuration-based: You can easily add a trading setup for each trading partner to the D365 Master Data for customers and vendors without the need to involve the IT team.

Staging tables for easier validation: Use staging tables to validate data and automate processes. You can validate incoming documents such as sales orders by using the staging journal. Additionally, you can use journal validations to ensure a smooth order process before you create a sales order in Microsoft Dynamics 365 F&O/SCM.

History management: Gets the entire document history with ease to mitigate any issues that may occur. And when it is time to analyze ROI, you can easily track past records of important documents using this feature. Additionally, administrators can rerun imports through this feature.

Manage exceptions within D365FO: As EDI Studio is an embedded solution you do not need to log out of the solution and into your ERP to manage exceptions. You can easily minimize errors that may occur during the process of document exchange using this feature.

Template-based document exchange: Predefined EDI content such as sales order invoices and purchase order confirmations can be quickly adapted and extended for specific business and industry needs.

Reporting and tracking: Users can initiate and track business transactions and document exchanges directly from their specific role center which makes reporting easier.

Customer mapping: Once you map data through configuration for each of your trading partners, any incoming document will automatically be matched with the corresponding trading partner.

Seamless data transfer: Party setup on D365 Master Data for customers, vendors, addresses, and warehouses.

Tutorials: There are tutorials in the solution to help you get started quickly and help you reduce implementation time.

Seamless integration: As EDI Studio is an embedded solution it completely automates and seamlessly integrates the exchange of EDI messages into your Dynamics 365 ERP system.
What are the benefits of EDI Studio?
The solution is built within the Microsoft Dynamics 365 environment. It's difficult to harness the power of the ERP if the solution is an isolated piece of technology that has to be integrated with the ERP. The solution integrates with several Microsoft Dynamics 365 for Operations modules, such as Accounts receivable, Accounts payable, and Warehouse.
Since our solution is built within Dynamics 365 and seamlessly integrates with all Microsoft modules mentioned above, the result is not just streamlined communication but a 360-degree enhancement of all your business processes. So, you can envision enhancements in your supply chain, logistics, vendor relationships, and customer relations once you start using EDI Studio.
An embedded solution provides a holistic overview of processes, easier troubleshooting, easier configuration, and improved performance among other benefits. To understand each of these advantages, we recommend reading our blog that explains them in detail. Also, do watch the demo in the video below that demonstrates the ease of EDI messaging in an embedded solution such as EDI Studio.
EDI Studio is built on our integration engine
Using EDI Studio you use our advanced mapping, data migration, and integration tool – Connectivity Studio for EDI purposes only unless you opt for our BIS suite. Our integration solution can integrate with any business system for synchronous and asynchronous communication. Connectivity Studio integrates with almost everything you can think of, including different formats, protocols, legacy, or new systems. The solution can also help you migrate data from Microsoft AX 2012 to Microsoft D365 FO within the organization.
Connectivity Studio is the engine that also transfers data in and out of Dynamics 365 F&O. The platform also overcomes the inflexibility of mapping to any field or table in the database as our solution does not use the present data entities in D365 F&O. This is something very few EDI solutions in the market can currently do.
Configuration based
As EDI Studio is a DIY solution designed with business users in mind, you have full visibility and can easily track and monitor incoming and outgoing documents. EDI Studio is configuration-based and can be used by the business user with simple tutorials that are already available in our solution. Since our solution is configuration based there is no need for any further development or coding.
Flexibility of partners
Our solution allows you the flexibility to connect with a value-added network (VAN)/managed service provider (MSP) of your choice (in case of an indirect, hybrid integration, or non-EDI messages), that could translate your messages to the right EDI format per trading partner.
While we do offer the flexibility of connecting to your partner of choice, we also have a partnership with TIE Kinetix for an end-to-end EDI solution – EDI-2-Flow for Dynamics 365. So, the choice is up to our customers based on their organization's needs.
Add-on solutions
If you are considering data governance solutions such as Master Data Management, Data Entry Workflow, or Data Quality Studio, along with EDI, talk to our experts about pricing and other questions you might have. Additionally, if you want the full benefits of Connectivity Studio, you can opt for the full version along with EDI Studio and get the benefit of a 50% discount on Connectivity Studio, when you purchase both solutions.
What are the limitations of EDI Studio?
Integration with single ERP
Since EDI Studio is built within the Microsoft Dynamics environment, integrating with any other ERP is not currently possible. However, our integration tool Connectivity Studio can integrate with several business systems to Microsoft's D365.
Network
Since To-Increase is an Independent Solution Provider (ISV), we do not currently offer a network or a VAN service. But we do have a partnership with TIE Kinetix that offers a network.
Message translation services
We help you with mapping your data and support multiple message formats but we cannot help you with translation of documents. However, we have a tie-up with TIE Kinetix that can help you with this service.
Lack of non-EDI message support
Non-EDI is a very rare service that is not supported by EDI Studio. Our partner TIE Kinetix does offer this service and can help you with PDF2XML services.
How much does EDI Studio cost?
The cost of our solution includes an annual base license fee plus cost per legal entity/company in Dynamics 365. This cost includes minimal startup and product upgrades. We also offer Essential services with minimal tickets as part of this cost that can be extended if your business requirements are more complex. The cost scales with the company but is not based on users or the number of messages sent out which works out more cost-effective compared to the competition.
We follow a tiered pricing model for our EDI solutions based on the number of companies inside Dynamics 365 F&O that use the solution. The more companies you add, the more cost-effective the solution becomes. The base licensing fees is €1600* for EDI Studio per month. And the cost per company is €450* for 1-10 companies and €200* for 11-20 companies.
When you ramp up the number of companies, the cost of your EDI solution decreases. For 15 companies, for example, the total licensing fees per month is €7100* for EDI Studio.

If you decide to opt for Connectivity Studio as well, the base licensing costs are €1300* and €350* for 1-10 companies per month, per company. To sum it up, the cost would be €1300* plus €350*, which works out to €1650* for Connectivity Studio per month for one company. If you do purchase EDI Studio and Connectivity Studio at the same time, we offer a 50% discount on the latter.
For more details, please read our EDI Cost blog. *Dollar pricing is a direct conversion of the prices mentioned.
Is EDI Studio a good fit for you?
Our EDI solution has been designed to empower businesses so that they are truly in charge of their EDI communications. EDI Studio is built on top of Connectivity Studio within Microsoft F&O which makes customer mapping for data easy with just configuration and not coding. As EDI Studio is an embedded solution you never have to log out of your ERP to log into the solution and that makes data transfer seamless and effortless. Additionally, with EDI Studio you get access to a versatile integration and data migration tool - Connectivity Studio and the Connectivity Monitor app, that allows you to track and monitor integration performance and your EDI messages.
If you are using an ERP other than Microsoft, then we would not be a good fit for your organization. However, if you understand the benefits of investing in an embedded solution within Dynamics 365 for your EDI messaging, then you could reach out to us after you have decided on an integration scenario that would work for your organization.
Which integration scenario are you considering?
If you are looking at a direct integration scenario that is less complex and low volume to build messages and maintain them with an in-house EDI specialist, then EDI Studio might be the right fit for you.
However, if you are looking at a higher volume of messages, with complex integrations, many global connections, then you could consider using our solution with a fully managed service provider such as our partner TIE Kinetix or an EDI broker of choice. In such a case, you get the benefit of a fully embedded EDI solution in Dynamics 365 along with additional services such as message translation and global connections.
If you want to save costs and are considering a hybrid scenario, where you partner with one or more EDI brokers/VAN providers for some of your EDI messaging and have a partial direct set-up, then we could help you get started with such a scenario as well.
Read our blog to understand the different EDI integration scenarios that you could consider.
Exploring EDI Studio for your business
We understand that finding the best fit for your organization is not an easy decision to make. There are several scenarios to choose from and you need to figure out the scenario that suits your business.
It is important that our experts can have conversations to understand your needs so that we can recommend the right approach to execute your EDI strategy. The best approach for a healthcare company based in the UK with a complex set-up for example will not work for a US-based healthcare company with limited trading partners.
If you haven't yet downloaded our EDI Studio for D365 factsheet, we recommend doing that before reaching out to our experts.
Share your details in the attached form below and one of our experts will reach out to you soon. Alternatively, if you want to schedule a demo, you could do that too.