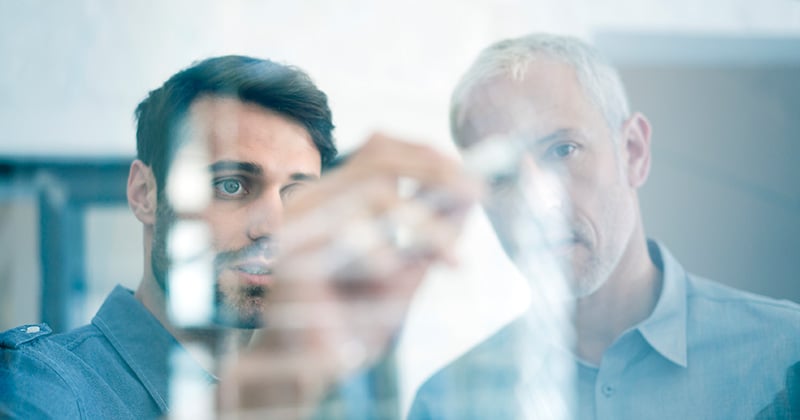 A key trend in the market across industries is to move to the best-of-the-breed applications. So, organizations are increasingly investing in specific solutions to strengthen their business functions. As a result of this, the application landscape is growing by leaps and bounds and is becoming more complex.
According to this report, organizations used 300 applications on average. Therefore, there has been a significant rise in the use of business applications across industries and that number has been steadily growing.
This comes as no surprise to us, and not just because we are an independent solution provider and have been developing enterprise-ready applications for the last 17+ years. But because we can see the growth in the adoption of business applications all around us.
Just imagine the amount of data flowing through each application but having fragmented and disconnected data! And as data is the key to unlocking groundbreaking insights, it's key to have good data to remarkably improve decision-making and strategizing.
An application integration solution such as Connectivity Studio can connect your complex application landscape and help you make this journey from scattered data to organized data for better decision making. In this blog, we will talk about the challenges in integration monitoring and also cover how To-Increase's new application can help you monitor application integrations with ease.
What are the common challenges in integration monitoring?

After the integrations are configured, you have taken only the first step in your journey to data transformation. To witness the benefits of application integration, you need to proactively manage and monitor your integrations. A failed integration on the other hand could impact business continuity and lead to significant losses.

How can you track your integrations in Connectivity Studio?

It is a known fact that integrations are crucial to business continuity but without any insight into integration performance, it is difficult to understand or point out what needs fixing. Keeping this in mind, we have built an integration performance monitoring solution, a new feature for Connectivity Studio that can help companies track and manage their integration performance.
What is Connectivity Monitor?

Connectivity Monitor (previously known as UIPM or Unified Integration Performance Monitoring) is a performance monitoring app for all your integrations configured using Connectivity Studio for D365 Finance and Operations or Supply Chain Management. The app can easily be accessed on your mobile phone or tablets from anywhere and is embedded within Microsoft Teams for easy accessibility.
And since our master data management solution – MDM Studio and electronic data interchange solution – EDI Studio are all built on top of Connectivity Studio, you can also use the app to monitor business processes, MDM and EDI messages – all in one place.



Why should you use

Connectivity Monitor

to monitor integrations?

Below are the benefits and features that Connectivity Monitor offers.


Holistic visibility on the go
Since you have access to integration performance on mobile devices you can access real-time insights at any time with one click. Connectivity Monitor's graphical dashboard provides a clear indication of the health of all your applications within your network and the app is easy to use on the go. It is also easy to compartmentalize errors by Project, Application, Company, etc.
Understand failure impact and take swift remedial actions
A comprehensive Power BI dashboard helps you understand the depth of integration failure across your 'Companies' and 'Applications' involved, while the actionable message log feature helps direct you to the location in Connectivity Studio where the error occurred. Thus, you can quickly resolve issues and fix integration problems. Notifications are automatically sent to the integration owner upon failure via Teams.
Optimize integrations
Via dashboards, you also get access to strategic metrics such as slow-performing integrations over time, peak message flow times during the day, etc. These can be used to optimize integrations and keep your application landscape healthy.
Built for collaboration
Connectivity Monitor has been embedded within Microsoft Teams for seamless collaboration. The minute an error is found, a notification is issued in Teams and it's easy to assemble a task force for a quick resolution.
Technical as well as Business Process Monitoring
Integrations or interactions not only occur across systems, but also in the form of business messages such as EDI (Electronic Data Interchange) with various vendors or in the form of MDM messages across various legal entities. At To-Increase, our solutions EDI Studio and MDM Studio enable these capabilities.
The Connectivity Monitor app is also able to track business process messages exchanged through EDI Studio or MDM Studio. If you use these solutions from To-Increase, you could get multi-fold benefits by using Connectivity Monitor – as your one-stop shop monitoring tool.
How is
Connectivity Monitor
built?
Connectivity Monitor has been built with Dataverse as a foundation with Power Apps and Power BI as the front-end. The app leverages Power Automate to increase efficiency and reduce resolution time. It is seamlessly integrated with the Dynamics 365 F&O/ SCM environment and To-Increase Business Integration Suite. The app is available via MS Teams in order to foster collaboration for quick error resolution times.
Is Connectivity Studio bundled with the
Connectivity Monitor
app the
right solution for you?

While you might be struggling with the monitoring of failed integrations or could be scouting for a new application integration solution, it is critical for you to look for software that fits your business requirements. Our Connectivity Monitor app will help you track and resolve integration failures in Connectivity Studio for Microsoft Dynamics 365, but if you are not a D365 user then we are not the right fit for you. However, we hope this blog has helped you understand the benefits of using a solution that offers scope for integration performance monitoring.
If you do use D365, we hope that this blog has helped you understand the benefits of using our new Connectivity Monitor app to monitor integrations to get the best out of connected systems and avoid any loss of business continuity. A pre-requisite is that you must have Power Platform license and Power BI in your ecosystem. If you are a Connectivity Studio user, you probably already know about the benefits of this no-code, flexible solution, if not, download our factsheet to learn more about the solution.
If you are interested in Connectivity Studio, reach out to our experts with your business requirements so that they can point you in the right direction. We would love to hear from you.