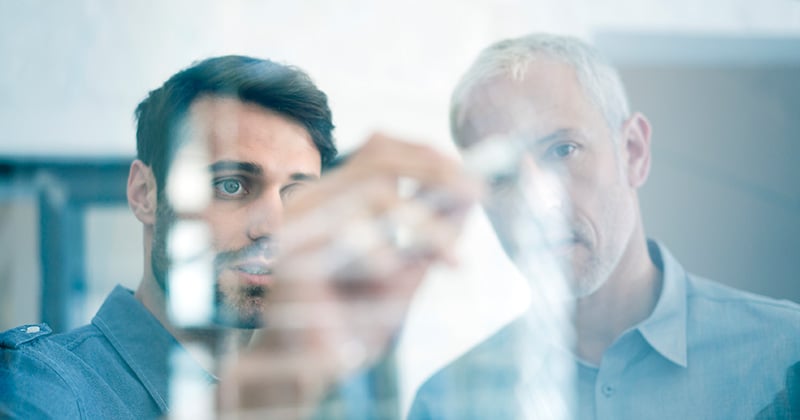 We learned from several of our existing Microsoft Dynamics 365 Finance & Operations (F&O)/ Supply Chain Management (F&SCM) customers and new prospects about their challenges dealing with data entry, data quality, and application integration activities. While they did find master data forms overwhelming, they also felt the turnaround for data entry tasks was slower. They expressed difficulty in reporting and analyzing data since data quality management was difficult without the right validations in place. Additionally, they had data silos since their application network wasn't integrated and managing that was turning out to be a nightmare for the prospects that reached out to us.
At To-Increase, we are passionate about solving customer problems by building solutions that help our customers streamline different processes and simplify their day-to-day tasks. We have been developing solutions for Microsoft's ERPs for 17+ years and have worked with over 2200 customers. As providers of data governance for Microsoft Dynamics 365 F&O/SCM, we have solutions for master data management – MDM Studio, data integration – Connectivity Studio, data quality management – Data Quality Studio, data entry management – Data Entry Workflow.
To elaborate on some of the challenges shared with us by our prospects and customers, we share the most common use cases shared by companies and how our solutions can help address them. We hope this will help you understand how data entry, data quality, master data management, and application integration solutions can streamline, speed up and improve your data processes for the Microsoft Dynamics 365 F&O/ F&SCM ERP.
Top 8 scenarios in D365 faced by organizations that our solutions can help with
Below we share several examples of challenges faced by companies from different industries with many legal entities within and outside D365 ERP. Currently, Microsoft D365 doesn't offer the functionality for the use cases, and therefore the companies reached out to To-Increase as we offer enterprise-ready solutions for data quality management, data entry workflow, and application integration.
1. Creation of customer of type: 'organization' and 'person' as a master record
Companies with different types of business models have the requirements to create customers that fit into their business. Some companies wanted to create another business entity as their customers, whereas some wanted to create individuals as their customers. The fields and the steps involved differ for an individual as a customer versus a company, and that's where our product Data Entry Workflow could provide the solution.
2. Perform a credit limit validation

To ensure that the credit limit of a customer (individual/organization) is in line with the risk allowance set up by the organization, the finance team sets the credit limit. Once that has been done, the business steward can validate the details before approving it. There was a requirement to validate the credit limit data with an external system and approve the data in the workflow.

This was possible using a combination of our solutions. Data Quality Studio and Data Entry Workflow solutions were used to help the finance team set a credit limit range, the possibility to provide proof of validation, and then let the external web service or data stewards perform the verification as part of an approval step in the workflow before publishing the data.
3. Making certain fields on the form mandatory and adding rules for better data quality
In order to make certain form fields mandatory with conditions, information in the related tables can also be made mandatory. This can be done using the Data Quality Studio solution. The solution also allows you to add a warning or an error when the mandatory field is left empty with an error note and a guideline for the field.
To ensure that certain critical fields in a form are mandatory without which completing the form would lead to an undesired outcome, Data Quality Studio was used. The solution also allows you to add a warning or an error when the mandatory field is left empty with an error note and a guideline for the field.
Additionally, to ensure email ids and country codes for phone numbers were correct, data quality rules can be created to connect to a web service for validation purposes.

4. Validate for duplicate check after retrieving data from a webshop
There were cases for companies that get customers through their online portal that wanted to ensure that Dynamics 365 doesn't have duplicate records of the same customer, leading to data duplication. Connectivity Studio can be used to integrate online data with the ERP platform and Data Quality Studio can be used to set up rules to execute additional duplicate checks. This can be done simply by configuration using both these solutions and without the need to involve developers.
5.
Create vendor record with bank account
Companies have shared this scenario quite often where they wanted to create new vendors as part of the master record, and also ensure valid bank details are directly added. This was an ask to ensure that the bank details entered are accurate and can be used for transactions once the vendor details are finalized.

To-Increase's new Data Entry Workflow solution helps to create a template containing details from the vendor and bank accounts to ensure they will be created in one release action.
6. Vendor has a new product catalog to be updated in Dynamics 365
Often vendors launch or update their product catalogs and want them to be updated in Dynamics 365 so that these new products can be made available to all other legal entities. This requires easy and correct mapping, initiating a specific workflow to get these records updated in a systematic manner.

With the combination of Connectivity Studio and Data Entry Workflow products, it's possible to initiate a workflow or quality assessment to complete the details which are not provided by the users in the source, while MDM Studio can be used to distribute data between companies and manage master data in a centralized or decentralized way.

7. Audit details when the bank account is created
To limit the risk on committing fraud, bank accounts are created including an approval step before they are available in the application. We can do an audit in the background, to check who created the record, when it was created and more.

This can be achieved using Data Entry Workflow solution, while the Dynamic Field Security feature in MDM Studio can ensure locking of sensitive fields such as bank accounts and credit limit.

8. Limit methods of payment option
In F&O, you can create a list with methods of payment, but these are available for everyone – customers and vendors. There are scenarios where companies would like to have only few payment methods available for customers, a few other methods for vendors, and a few available to both customers and vendors.

Data Quality studio provides the option to define the range of payment methods available to specific groups, conditionally. In this way, the requirements of the companies can be met.
How did our solutions mitigate these challenges?
Below we share features of our MDM Suite of solutions that helped solve the challenges mentioned in the section above.
The flexibility in defining workflow steps
Data Entry Workflow can define steps in a workflow and provides the flexibility that after a certain number of steps, the master record can be made available to the target companies and the remaining steps can be completed later.
Here's an example of creating a customer master record using Data Entry Workflow:
First step: Assigned to a Sales Clerk to provide details such as customer name, customer group, address, contact details, and sales attributes.
Second step: Assigned to the Accounting Manager to provide details such as credit limit, financial dimensions, VAT number, and tax details. He/ She can also review the "customer group" entered by the Sales Clerk in the previous step and accept/ reject the value.
Third step: A Sales Manager can review all the details coming from the last two steps, request for change (if needed), or approve it. Once approved the master record will become available in the application.
Set up approvals
The Data Entry Workflow solution ensures that different workflows can be easily configured. One or more approval steps can be added as part of the workflow, either as the last step or intermediate step. Everything is configuration-based. Approval steps ensure that a record can be published only after proper review and confirmation.

Adding web services
Using Data Quality Studio, you can set up a data policy to validate data from third-party web services to verify email addresses, phone numbers, and much more. This ensures the accuracy and validation of data from a trusted external source that you can opt for.
Add validation rules
You can make fields mandatory, set up duplicate checks, and add data patterns and web service validations to ensure data is entered accurately using Data Quality Studio. You can use Data Quality Studio in combination with other data solutions from To-Increase.

Integrate your application ecosystem

Using Connectivity Studio, you can integrate all your applications and business systems with your ERP simply by configuration. You can create an integration with an external partner or business application with your ERP and ensure information is always updated and changes are reflected on a data-driven or event-driven approach.
Flexibility of data mapping
Connectivity Studio can overcome the limitations of the Data Management Framework of Dynamics 365 and allows you to map any field or table by configuration and simplify integration. It is an advanced integration engine that allows you to add data selections (tables, views, entities) and integrate with any business system, application, and your ERP using any field and table within Dynamics 365.
Related reading: 7 Frequently Asked Questions About To-Increase's Application Integration Solution for D365
Distribute and manage master data
MDM Studio can distribute data across local companies and even external applications. Additionally, you can manage master data centrally by assigning control to the data stewards or de-centralize the management of master data by assigning ownership to multiple users.
Note: The Dynamic Field Security feature is currently available to our MDM Studio customers as a preview!
Is MDM Suite the right fit for your organization?
While we offer Connectivity Studio for Dynamics 365 F&O, D365 BC, AX, and NAV, we offer Data Entry Workflow and Data Quality Studio for D365 F&O only. So, if you use a different version of the ERP, then perhaps the MDM Suite might not be the best fit for your company.
As part of the MDM suite, we also offer MDM Studio for master data management, which connects to your ERP using our integration engine Connectivity Studio.

The collective strength of all the solutions in the MDM Suite can help you connect your application landscape, improve the quality of your data, manage and control master data, and streamline your data entry and approval processes within your company. If you have a data governance strategy that addresses the challenges your teams are facing and use our tools to implement your strategy, you could transform your data processes considerably.
If your company does face the challenges outlined in this blog, then you can download our MDM Suite factsheet to explore our solution features in more detail. If your challenges differ, then it might be best to talk to an expert and explain your business case and problem areas so that we can help you with solutions better suited to your situation.