Advanced Project Planning
For Microsoft Dynamics 365 for Finance and Operations
With To-Increase Advanced Project Planning, you can enable project managers to deliver what the company promises. For the planners and decision-makers in your business, Advanced Project Planning provides direct insight into the status of projects and the availability of resources.
Gantt based project planning integrated in Microsoft Dynamics 365 for Operations

Are you having a hard time to plan and track your complex projects? Are you struggling to align project planning with material planning? Advanced Project Planning provides you with powerful Gantt visualization and planning capabilities within Microsoft Dynamics 365 for Operations. Given you coverage from quotation to project close-out and integrating planning with material requirements planning, resources and progress.
Real-time view of project progress
Track the progress of projects either directly or based on the hours booked by employees for all relevant activities.
Manage dependencies
Keep track of interrelated activities so you can see and resolve scheduling and supply conflicts before they happen.
Prevent material shortage
Get direct visual feedback on any anticipated material needs and shortage from within your project schedule.
Quote and project visibility
Gain insight from quote to project and plan activities starting in the quotation phase with seamless handover to the project execution phase.
Optimize resource usage
Assign workers and equipment to project tasks. Fully integrated to use the capabilities of Microsoft Dynamics 365 for Operations to staff your project and manage its resources.
Download the Advanced Project Planning Fact Sheet
Advanced Project Planning for Microsoft Dynamics 365 for Operations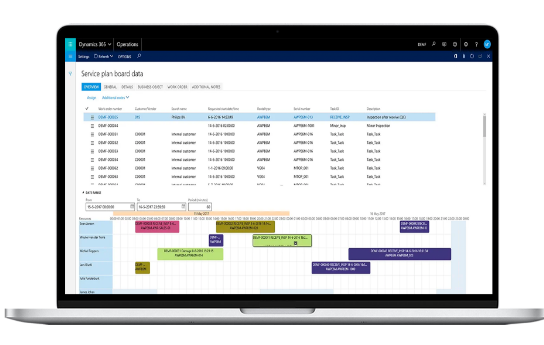 Other solutions you might find interesting