To-Increase AX Anywhere - Logistics
Mobility Solutions for Microsoft Dynamics AX
AX Anywhere – Logistics is a mobile app for Microsoft Dynamics AX that supports the most common processes in your warehouse. Instead of manually receiving goods, picking sales orders, or moving pallets, your warehouse workers can use mobile devices with barcode scanners to perform their tasks with optimal accuracy, speed, and consistency.
Read this free factsheet and see:
Our perspective on business and technology trends where To-Increase

AX Anywhere - Logistics

can make a difference
How To-Increase can help you address important business issues
How our vision and design of To-Increase

AX Anywhere - Logistics

support your business goals and long-term viability
Would it be worth the time to learn more about To-Increase AX Anywhere - Logistics? Simply complete the form on the right and get the factsheet for free!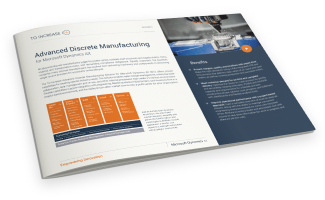 Download your free copy today!