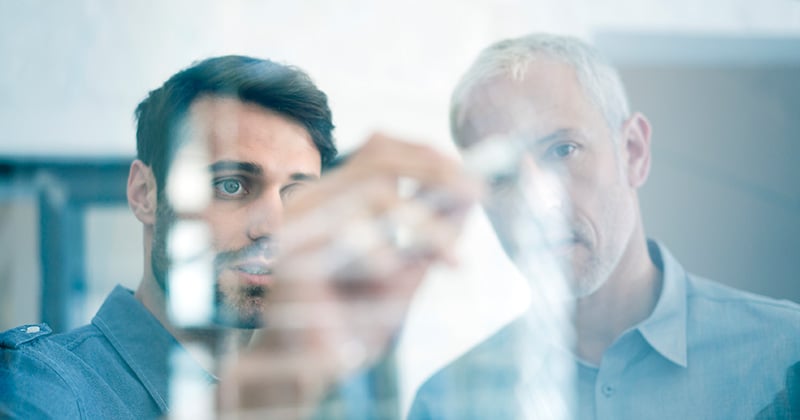 Working with a new Independent Software Vendor (ISV) means a lot of steps. You and your team might browse their solution pages, download some content assets, and look for reviews online before you request a demo and take things further.
We launched Data Entry Workflow for Microsoft Dynamics 365 Finance & Supply Chain Management (D365 F&SCM) in 2022. Since we believe in being transparent with our customers, this blog is an honest attempt that includes not just the benefits but also the limitations of our solution. And we plan to add some of the current limitations to our roadmap to strengthen our offering.
In this blog, we share the features, benefits, limitations, and licensing cost of Data Entry Workflow for Dynamics 365 F&SCM. We hope this will give you a clearer picture and help you make a decision best suited for your organization.
What is Data Entry Workflow for D365 F&SCM?
A unique solution built to help you design workflows for data entry and data approval in D365 F&SCM. The solution makes it easier to collaborate between teams and can also help you improve data quality simply by configuration.
Using our solution, you can have the user/team only show fields needed for their role which makes it easier to enter data and also speeds up the process. Additionally, by making rules for fields (for example mandatory), you ensure the completeness of the data. And by only allowing the creation/update of a record after approval, you can improve the validity of the data.
What are the features of Data Entry Workflow for D365 F&SCM?
Design your own forms
Using the design feature of the solution, you can create data entry workflow templates by simply selecting fields, assigning only specific fields to relevant user, team, or security roles.
Stepwise approach
Using a stepwise approach, you can assign each step to relevant team members using parallel or subsequent steps for data entry or approval. You can also set time limits for each step. This makes collaborating for data entry easier.
Easy approvals
For simplifying the approval process, you can only show the most important fields so that it is easier for the Manager to validate that data. The Manager can then add a comment if the value in a field is rejected and clarify why the field needs to be changed or is incorrect. You can approve all fields at once or for more accuracy approve each field individually.
Easy Tracking
Using a workspace, you can monitor each workflow and the status of the data entry for each record. This makes it easier to follow up in case a step needs to be completed quickly.
Staging area
Data can be stored in a separate table until new data is entered, and the required step is completed.
Replicate workflow templates
You can copy existing data entry workflow templates to quickly create new templates that can be used for other actions on the related subject, like creation or update actions.
What are the benefits of Data Entry Workflow for D365 F&SCM?
No-code solution
Our solution is configuration-based. So, just by picking fields you can design a workflow with a few clicks. You can assign fields per user, team, or security role which can also be conditional which means that the step will be dependent on the value entered in a previous step. You can also assign one or more approval steps in the system.
Protects you from fraud
There is some critical information in D365 F&SCM that can be changed by anyone unless there are processes in place and that can be a huge fraud risk. So, for example, if you allow the vendor bank account field to be changed only through the workflow and then have an approval step to validate that data before any change is made to it, it protects your company from the risk of fraud.
Embedded in D365 F&SCM
Since our solution is an embedded solution, it has operational master data. Our solution can check the data inside the ERP. So, for instance, related data will be checked immediately and that's also very helpful for the users.
Integrates with To-Increase's Mater Data Management Suite
Our Data Entry Workflow solution easily integrates with Data Quality Studio and Master Data Management (MDM) Studio for D365 F&SCM.
Allows you to control change of master data
With Data Entry Workflow you can carry out a controlled change of data. For example, the master company created a customer, with a name and address that will be released by the MDM distribution to the operational company. For everything that is released, you can block specific fields on the forms using the Dynamic Field security feature in MDM Studio. If the user wants a change they can start a Data Entry Workflow and make a suggested change which is then sent to the master company for approval. When approved the change will be affected and distributed back to the company. This makes it possible to have a change request system for master data. All changes to the data are logged, and that can be used for audits again.
Can be used with data imported from other systems
Whenever you get data from other systems that is not complete for Dynamics 365, it can become a problem. Let's say a customer record is imported from the CRM system with just about 20 fields, but for D365 you need more fields populated. Instead of creating the record, you can import the data in the Data Entry Workflow solution and assign the other fields to the relevant team members. This way you can ensure that all the records are completely populated and there are no missing values in fields.
Scalable
You can add it for as many companies as needed. Additionally, you can also have specific data entry workflows per legal entity.
Secure
You can also limit access to certain workflows for specific team members for more security. For example, you can assign a person/team/role the access to start a data entry workflow to change/update records in a single legal entity.
Streamline data entry
Data Entry Workflow helps you design workflows that can ensure specific users are assigned relevant fields with a time limit in a structured stepwise process. Users will get task updates in a workspace where they need to enter data.
Validate data easily
Using the Data Entry Workflow solution, you can assign one or more approval steps in one workflow. This ensures critical details are validated internally, such as the credit limit for customers, or vendor bank accounts. Using our solution, you can also attach a document, which the approver can check in the system directly which makes that approval process easier. So, for example, if you get an email from the vendor with their bank details, you can take a screenshot and attach it to the workflow. This can then be approved or rejected, and they can explain why the field is rejected and it goes back to the previous step for data entry.
What are the limitations of Data Entry Workflow for D365 F&SCM?
Tasks and approvals not possible on mobile
All tasks and approvals have to be made only using D365 F&SCM. As of now, approvals are not possible on a mobile device. Alerts can be created and shared for tasks in F&SCM but currently, notifications are not received on email/Teams once a task is assigned but that is on our roadmap.
Don't do well in list views or grids
Currently, the workflow is only possible for 1 record at a time. For example, for a sales order, we would be able to enter a header but entering all the lines on the list is difficult. So, we cannot support list data yet.

Mass updates
Data Entry Workflow cannot be used for mass updates and mass approvals. For instance, you want to import 500 customers and enter them in Data Entry Workflow for them to be validated really quickly. That is on the solution roadmap and will be available soon.
Limited reporting
Currently, we do not have a feature that records reporting on changes. When a record is changed, we cannot see the earlier and newer value, we can only see the new value. This is on our roadmap and will be available soon. And there is no functionality to track how much time data entry has taken and to send automated reminders.
What is the cost of Data Entry Workflow for D365 F&SCM?
You can factor in the total cost to the company to include licensing fees, training and implementation support, and any services (if required). It is easier to share license costs since implementation and training support is based on a case-by-case basis and varies based on the customer requirements and scale of the project.
Data Entry Workflow licensing is priced by the number of base users. The licensing fee is priced at €750* as the base fee and the cost per user is 20* per month for the first 50 users. And €15* per user, per month for 51-150 users. So, the more the number of users, the more cost-effective the solution becomes.
The licensing cost currently includes Essential services with minimal tickets. It also includes product upgrades, fixes based on Microsoft's upgrades, and access to documentation and release notes.
Training costs depend on the number of hours, and prep and project coordination time. Besides training, we offer consulting services for implementation assistance, workshops, and Q&A sessions when required. For companies that want extended support, we offer different packages for support.
*Please note: For dollar pricing, it is a direct currency conversion. For any other questions, please reach out to our experts.
Is Data Entry Workflow for D365 F&SCM the right solution for your organization?
If you want to learn more about the solution, you can download the Data Entry Workflow factsheet. Alternatively, if you want to explore the Master Data Management suite, you can download that factsheet instead.
We currently do not offer our solutions that are part of the MDM Suite on other versions of Microsoft's ERPs but if you are looking to move from AX to D365 F&SCM, do explore our integration tool Connectivity Studio.
If you are convinced and want to schedule a demo with our specialists or have questions and want to address them first, click on the link below to book some time with our specialists.