Version 2013 R2 of To-Increase Industrial Equipment Manufacturing offers integration with the Service Management module in Microsoft Dynamics NAV. By providing them with the ability to offer valuable services, we enable industrial equipment manufacturers to offer their customers a better return on their investment throughout the lifecycle of the initial project deliverables. By providing services, they also can generate additional revenue. In addition, they gain the ability to ensure that the performance of their own equipment maintains desirable levels.
The new integration connects Industrial Equipment Manufacturing to Microsoft Dynamics NAV in three main areas of functionality in regards to service management:
Handing over from the project deliverable to service management

Running service orders as projects

Taking advantage of the service functionality to implement equipment maintenance plans
Let's take a look at how these new capabilities work.
Transitioning from Project to Service Delivery
Most of the time, the final deliverable provided by industrial equipment manufacturers is unique and specific to a customer. For that reason, generic item numbers are not useful in identifying such deliverables. In Industrial Equipment Manufacturing, you can use the deliverable functionality to tag a project's end point with a "dummy" item. You can easily link job items used in a project to the final deliverable and establish an "as installed" structure. Through a sales order, you can transfer that structure to a service item, in which the linked job items become components of the service item. A new wizard combines these capabilities to simplify the hand-over from project to service delivery.
To allow for a smoother passage from project to service delivery, we also improved the integration of service orders with time registration by means of generic tasks. We added a new field to the Repair Status Setup. When the status is checked, the generic task will be created or updated and set as active. When it is unchecked, but a generic task exists, the status of that task is set to terminated.
Managing Service Orders as Jobs
In the latest version of Industrial Equipment Manufacturing, you can run repairs and other work performed on the results of your manufacturing as projects instead of simple service orders. The solution now also helps you ensure timely, accurate invoicing.
Microsoft Dynamics NAV processes service orders in the same way as sales orders. This simple process, however, comes with the disadvantage that revenue and the cost of sales are both posted at the time of invoicing. In project-based manufacturing, this is generally not advisable because the posting of costs and performing invoicing tend to be disconnected tasks. We resolved this quandary.
In Industrial Equipment Manufacturing, you can now define one or more types of service orders as Job Management, which means they are managed through a job. During setup, you can define a job template to create a job from a service order. In addition, you have the option to link a service order to an existing job. Once you have made that connection, you can easily link the individual service items in the service order to job tasks.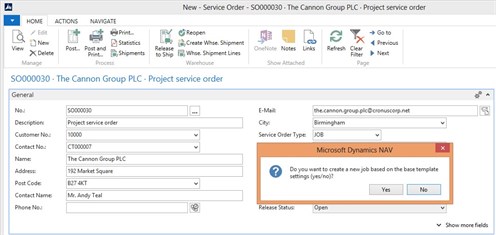 When you invoice, you can only post a service order linked to a job as Ship and Consume. Industrial Equipment Manufacturing creates job ledger entries based on this posting. Thereby the costs of the service order are transferred to the job, and you can invoice them from there.
Implementing Maintenance Plans
You can use Industrial Equipment Manufacturing to set up maintenance and repair schedules for your own machinery. In doing so, you can also update the information regarding the available equipment capacity, so your production planning considers scheduled maintenance tasks.
To begin setting up a maintenance plan, you use a service item to register the equipment. That service item can link to different types of resources: machine, work center, or machine center. For each service item, you can create multiple maintenance plans for different types of maintenance tasks, each with its own schedule.
You can schedule for the maintenance intervals that make most sense, using dates, numbers of hours, or an estimated number of years with an appropriate interval to accurately calculate the next date. In your maintenance plan, you can also list the material and resources needed. These will be copied into the maintenance service order you create in the next step.
In Industrial Equipment Manufacturing, maintenance service orders are created with a batch job, which you can run periodically. When you allocate resources, the solution creates an absence entry for the equipment to make sure the capacity is not available for any other tasks.
If you are interested in the new Service Management integration in Industrial Equipment Manufacturing or have questions about it, get in touch with an industry expert.