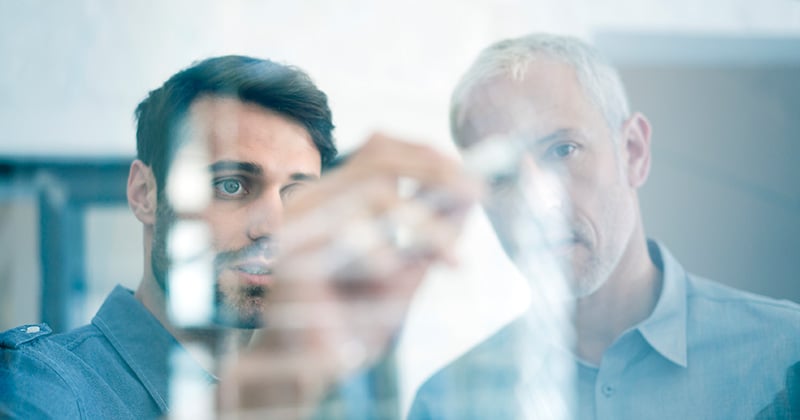 Electronic Data Interchange or EDI was conceptualized way back in the 1960s for streamlining communication for the U.S. transportation industry, but a lot of organizations are yet to adopt the technology. In fact, the Global EDI Market Outlook report states that although the demand for EDI solutions is at a mature level, the report forecasts a growth of 12% CAGR between 2022-2027.
Although organizations find the initial implementation costs high, it is cumbersome to deal with manual paper-based processes, delays in business communications, and tracking and recording documents without an automated process in place.
If your organization is facing the challenges mentioned above, it's critical that you understand the options available to help you navigate through the world of electronic data interchange or EDI.
At To-Increase, we've helped over 500+ customers streamline their business communications using our EDI Solution – EDI Studio, and through this blog, we can help you understand the types of EDI Providers available and what will work for your business.
Before we dive into the various types of EDI Providers, if you are new to EDI, we recommend reading a couple of resources:
What is an EDI provider?
The definition of an EDI provider has evolved through the ages. As newer protocols and standards emerged, newer middleware and methods of sharing data have also resulted in higher expectations from consumers.
Traditionally EDI providers enabled businesses to exchange documents from one computer system to another. Now, however, since EDI has evolved so much, an EDI provider either plays a small but integral role in the process or manages the entire EDI business process end-to-end.
Most organizations are looking for some help to manage part or their entire EDI process, as it requires maintaining a partner network, managing an EDI solution, EDI translation, non-EDI, and EDI integration with their ERP and business systems. So, while some EDI providers might provide a VAN network or a digital integration platform that displaces the need for a VAN network, some might offer the EDI software or an end-to-end EDI solution.
Therefore, you could be either looking at a combination of EDI Providers to manage your EDI processes or if you prefer an end-to-end solution, your preferences will lean towards a fully managed EDI service provider. Whichever scenario you decide to go with, the EDI Provider will enable you to exchange business documents (also known as messages) via an on-premise or cloud solution between your trading partners.
What are the types of EDI providers?
Although there are just five types of EDI Providers, some of them go by different names but offer the same service.
It is also important to note while each EDI Provider offers a different or a combination of services, there are certain EDI providers that specialize in specific industries or verticals such as retail or automobile for example. While others might focus on the company scale and offer services for small to mid-sized businesses only. So, it is crucial for you to figure out whether you want to evaluate an EDI Provider with specific experience, or an EDI Provider based on the services it provides.
Let's cover each of the above-mentioned EDI Service providers and then based on your organization's needs you could look for the type of EDI Service provider or combination that would work for your organization.
EDI Broker
Although some people might mistake an EDI VAN provider for an EDI broker, the terms are not interchangeable as they both provide different services. We have also published a comparison blog, comparing brokers and VANs that might be helpful to read to understand the differences in detail.
So, while an EDI broker provides a VAN network or might connect to a few VAN networks in places where they do not have their own network, they also provide other services. Most EDI brokers provide translation services for different formats. Besides translation which is a major value-added service as EDI documents have to adhere to different sets of guidelines for each standard and format which is not something, your in-house EDI specialist might be familiar with. Besides translation, EDI brokers provide validation and a safe way to share EDI documents with business partners with support for all EDI standards and formats. In fact, on average brokers offer 2500 different formats.
Very few EDI brokers also provide non-EDI, which is a very rare service to come by. Non-EDI is the transmission of an EDI message into a PDF document and emailed (PDF2XML) to a trading partner who does not have EDI messaging setup yet.
Who is an EDI Broker a good fit for?
Most EDI brokers charge per-transaction fees, implementation, and set-up fees. And since they offer more services, their charges are higher compared to a VAN provider. Therefore, if your integrations are complex and then a scenario using indirect EDI using a broker would work best.
However, if you will be exchanging a large number of messages, consider a hybrid EDI via an EDI broker for some transactions. You might also need to connect to a VAN, or a broker might do that for you, if your trading partners are spread out globally.
Fully Managed EDI Service Provider
A fully managed EDI service provider offers an end-to-end EDI service including the cloud-based solution, EDI specialists, translation into different standards and transmission of EDI messages to your business partners. The EDI specialists can help you with trading partner mapping, ERP integration, customizations in some cases, and manage day-to-day EDI messaging which includes error handling and resolutions.
You could say you are outsourcing your entire business function to a fully managed EDI service provider. While some fully managed service providers offer an integration platform for transmitting messages, some might connect with an EDI VAN or have their own EDI network to exchange EDI messages.
Who is a Fully Managed EDI Service Provider a good fit for?
If you are keen on freeing up your resources and prefer outsourcing the entire function, then this scenario might work for your organization. However, it might be difficult to have full visibility and control of all your EDI messaging if you outsource your EDI messaging and the cost will be high as well. If you find it hard to onboard the right EDI talent, you could also consider EDI outsourcing for talent.
EDI Solution Provider
EDI solution providers develop and maintain the EDI software. They help you with the implementation, onboarding, and training. EDI Studio is an example of such a solution offered by To-Increase.
The organization needs to have in-house EDI specialist/s to manage the day-to-day EDI messaging, error handling, and EDI integration with other systems. These specialists will receive training from the EDI solution provider and some support based on the organization's EDI contract with the EDI Solution provider.
Who is an EDI Solution Provider a good fit for?
If you want full reign and visibility of your EDI messaging, then consider investing in an EDI Solution. You could connect to your trading partners directly if you have a simple set-up and limited EDI message exchange. However, if you have complex integration needs and the scale of your EDI messaging increases then you need to consider an indirect scenario with an EDI broker and/or VAN provider as we have also earlier mentioned.
VAN Providers
Investopedia defines VAN or value-added network (VAN) as a "private, hosted service that provides companies with a secure way to send and share data with its counterparties." Therefore, a hosted VAN Provider also known as an EDI broker, can easily transmit and pass on communications between a private network or a cloud-based EDI provider as they are pre-connected to the trading partner community.
As the name goes, VANs add value to the process by providing a secure, outsourced network that connects organizations with their trading partners across the globe. VANs provide a mailbox service and transmit your documents to the mapped trading partner's mailbox. A hosted VAN Provider can easily transmit and pass on communications between a private network or a cloud-based EDI provider as they are pre-connected to the trading partner community.
Some EDI VANs offer data-related services such as data backup and recovery. Some of them also offer additional services such as document mapping, compliance, basic auditing, and reporting services to track your EDI system's performance.
Who is a VAN Provider a good fit for?
If you have several trading partners spread out across the globe and do not have the bandwidth to maintain connections for each trading partner, then it might be wise to consider a VAN Provider to transmit your messages.
However, each transaction is billable and that could work out very expensive if you are dealing with large amounts of data exchange. Therefore, you could look at a hybrid scenario with a combination of direct EDI and some of your EDI communication through a VAN Provider. If you go with this scenario, do also factor in translation services if your trading partners use different message formats.
EDI Outsourcing

/ B2B Managed Services
Using these services, you can outsource the staffing for your organization's EDI messaging. This service is gaining popularity as finding the right resources for EDI can be difficult. These EDI specialists manage all your day-to-day EDI messaging, EDI integration with your ERP and other systems, exception and error handling, and resolutions.
Who is EDI Outsourcing a good fit for?
This can be an interim solution if you are already using an EDI solution in-house and do not have an EDI specialist onboard. However, it is important that you outline your organization's requirements and assess the services offered by the EDI outsourcing provider. Some of the specialists might be able to help you with customer mapping, integrations with other systems, and setting up your EDI messaging but might be keen on working with just one type of software solution. The EDI expert should ideally be quick at learning and open to working with various software.
What type of EDI provider works best for your organization?
EDI is a complex world full of acronyms and so many different players offering various kinds of services. It can be overwhelming to understand the different terms, standards, and protocols that would work for your organization. But taking one step at a time, once you have your footing and analyze your organization's needs you can then decide on the kind of EDI solution based on the mix of EDI Providers you would like to work with.
If you have the resources or would prefer to have your EDI managed in-house with full visibility and control of all your EDI messaging, then consider an EDI solution provider. We personally recommend adopting an integrated EDI solution as that can help you remarkably streamline all your business document exchange. However, you would also need to consider translation services for other EDI standards and a VAN network, or you could connect to an EDI broker for both.
If you think outsourcing EDI completely is the way for you, you could consider a Fully Managed EDI Service Provider. Your EDI provider will be responsible for everything from customer support to the translation of EDI messages. However, visibility and control of your EDI messaging will be limited.
But if you are looking at an end-to-end EDI solution with full control and visibility on all your EDI messaging, then download our brochure on EDI-2-Flow, our combined offering with TIE Kinetix for Microsoft Dynamics 365 Finance & Operations.