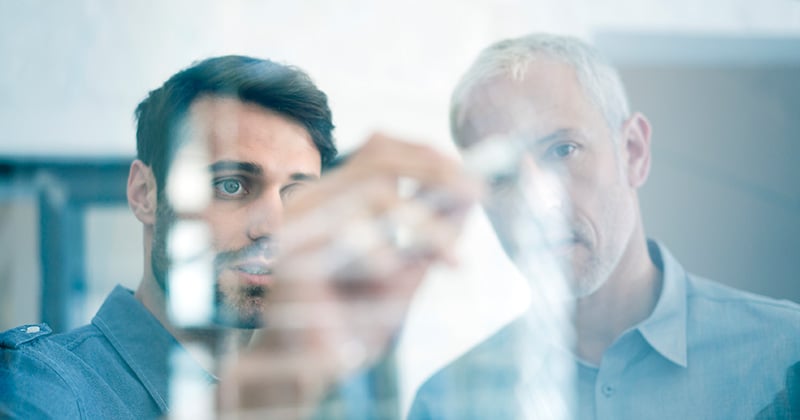 There are several challenges that plague the food industry across manufacturing, wholesale, and retail. The manufacturing food industry has to drive round-the-clock operations without any delays while dealing with labor shortages and keeping in check with stringent regulations. The wholesale food industry must have adequate storage space, and logistics and distribution processes need to be running smoothly to optimize profits. At the same time the retail industry has to cater to changing consumer demands and ensure an optimum demand-supply ratio of food stock.
Additionally, COVID-19 hit the world and caused a domino effect of newer challenges for the food industry with panic buying, problems with transportation and supply, the closing of several restaurants, and change in consumer habits toward healthier foods. The consumption of groceries increased per household and the food industry had to adapt to that change quickly. And solutions such as electronic data interchange or EDI can help industries deal with these challenges on a daily basis.

EDI is the way organizations across the globe send and receive critical business documents. It is a technology backed by global standards that ensure consistency and EDI can help organizations across the food industry (amongst many other industries) quickly communicate and ensure consumer demands are met based on changing preferences and industry trends.
At To-Increase, we have built solutions for the Microsoft Dynamics ERP across data domains for organizations in the food industry that can help them with their electronic data interchange and application integration challenges. Therefore, in this blog we will focus on:
Customer challenges in the food industry and how our solutions can solve those?

The most frequently exchanged documents in the food industry

How can your organization benefit from using our solutions?

Are

Connectivity Studio

and

EDI Studio

for Microsoft Dynamics 365 Finance & Supply Chain Management the right solutions for your organization?
Customer challenges in the food industry and how our solutions can solve those
Like any other industry, the food industry faces a lot of challenges from shelf-life restrictions, to storage and distribution problems. In the section below we will explain how our application integration and integrated EDI Solution can help you mitigate those challenges.
1) Modernize infrastructure
Food manufacturers are embracing newer technologies such as AI and blockchain and increasing automation in their business processes for day-to-day tasks. So, in such a scenario if organizations decide to migrate to the cloud and are looking for a way to integrate all their business systems such as ERP and logistics, for example, an advanced integration application system such as Connectivity Studio can help you do just that.
How can Connectivity Studio help you modernize infrastructure?
In case of data migration, while upgrading ERP systems or moving to the cloud, you can rely on the templates within Connectivity Studio to perform data migration to an updated Microsoft Dynamics ERP simply by configuration without any coding needed from the IT team.
Using Connectivity Studio, you can automate data synchronization that simplifies processes such as EDI and helps you send synchronous and asynchronous messages and see data changes in real-time. And when you're migrating data, you can ensure that only required customer and product data would be migrated to the new ERP system. In comparison to the data export module in Dynamics, Connectivity Studio is easier to use and offers more flexibility as it overrides the Data Management Platform and data entities within the Microsoft D365 platform.
2) Stringent regulations
Food manufacturing organizations need to adhere to regulations passed by governing bodies such as the FDA, FTC, and so on. This impacts packaging, ingredients, the way the product is labeled, and much more. Document exchange becomes crucial when exchanging product information.
When things go wrong, food manufacturers have to recall food products from their distribution and retail partners. To ensure minimum damage they have to ensure they have a system of digital reporting and records are easy to track and find.

How can EDI Studio and Connectivity Studio help you adhere to regulations?
Electronic data interchange ensures standards that are accepted worldwide are used and that way regulations are checked off. Our solution, EDI Studio supports global standards including EDIFACT (Europe), ANSI X12 (United States), fixed text, and XML.
In case you need to issue an immediate recall of a part of your stock, the history management feature in EDI Studio can help you track and trace past messages and help you quicken the process and minimize damage.
3) Inventory management
Given the food regulations, and maintaining the reputation and profits for the organization, the company needs to maintain a quick produce-to-supply chain with accuracy and quick communication. This makes inventory management a big priority for food manufacturing and wholesale organizations. For each kind of food, whether fresh or frozen, if not stored and distributed properly, there can be disastrous consequences. Therefore, it is important to communicate the best before date and ensure products are dispatched based on the expiry date.
How can EDI Studio and Connectivity Studio simplify inventory management?
Using an integrated EDI solution, and our application integration solution you can ensure data is synchronized in real-time across business systems. Using EDI, you can ensure that your partners can send and receive acknowledgments for messages sent and received. And in case of any errors, EDI Studio can help you set up alerts and manage errors easily by validating messages in the staging area.
Through our solution, we can help you customize messages to include information such as the expiry date to ensure that first expired is first out (FEFO). In some cases, we have also helped customers customize messages in EDI Studio to add important differentiating details such as the products being gluten-free and/or vegan.
4) Boom of eCommerce
As consumers are much more socially connected than ever before, building and maintaining an online presence is important for the food industry. According to Statista, the food market is forecasted to generate a revenue of $8.66tn and 7.8% of that revenue will be generated through online sales in 2022.
Post the lockdown in 2020, we have seen more food-related apps, and eCommerce websites launched. Adapting your business model to support your current retail and online demands is only possible if you have a system in place to ensure optimum business communication.
How can EDI Studio and Connectivity Studio help you with eCommerce?
Using EDI Studio, you can use various scenarios and set up direct messages with customers and suppliers or go the hybrid or indirect route. Additionally, EDI Studio can be used for eCommerce orders and integrated with either your own platform or your customer's platform.
On the other hand, Connectivity Studio can help you deliver master data to the eCommerce system using web services. So, to explain this, all the product data that you see on the company's website is set up in a back-end repository or a PIM system. So, you can use Connectivity Studio to export ERP data such as stock information, price information, partner discounts (if you have a B2B website), and even product images (JPG, PNG) to your e-commerce site. Your customers can then place their orders, which will reflect in your ERP systems.
5) Changing customer trends
Post the pandemic, consumers got more health conscious and developed a preference for foods that were reinforced with nutrients. This became a challenge for manufacturers as new ingredients needed to be sourced, which means adding more trading partners. Also, that meant product information had to be updated across systems.
For retailers, this is a challenge as they need to reach out to suppliers based on changing consumer demand and stock goods accordingly. This requires placing new orders with new wholesalers or manufacturers that need to be added to their systems.
How can Connectivity Studio and our partnership with TIE help you make changes quickly?
The capabilities of Connectivity Studio allow you to integrate not just EDI Studio but all your business systems and ERP, so data synchronization is in real-time. So, for example, if you need to update product information or customer data, that can be done in the ERP and the information will reflect in your logistics system provided you have integrated both using Connectivity Studio.
While we do work with various VAN/Brokers, we do have a partnership with TIE Kinetix for our end-to-end EDI solution – EDI-2-FLOW. If you do opt for our partner or our end-to-end solution, they can help you add trading partners with ease. The advantage of working with TIE is that compared to some VANs/Brokers that charge you to add new trading partners, TIE does this without any additional costs.
6) Labor shortage
While some industries are trying to downsize and cut costs, the food industry is currently facing a labor shortage. When you have lesser employees, you do not want them spending time manually sending documents or transferring data in and out of your ERP into other systems.
How can Connectivity Studio and EDI Studio help you automate processes?
Our solutions combined can help you automate data synchronization and document exchange. Using EDI Studio and Connectivity Studio you can share synchronous and asynchronous messages. This will save your employees time that would otherwise be spent in document exchange using manual methods.
Since both our solutions are built within the Dynamics 365 platform, you do not have to log out of the ERP. You simply click on a button for EDI Studio to use the tool. Nor do you have to manually spend time copying data from ERP to the EDI tool, as it is not just integrated but built within the Dynamics 365 platform.
7) Supply chain operations
Manufacturers need to maintain a steady supply chain but this can change based on consumer demands and industry trends. Manufacturers and wholesalers need to find ways to better manage their inventory and supply chain operations with the use of tools.
There are the possibilities of product damage due to accidents or human errors and that could lead to delays in the supply chain process. Tracing goods and ensuring the smooth functioning of your supply chain requires a solution that can streamline business communications internally and externally with all your stakeholders.
How can EDI Studio help you streamline your supply chain?
Our solution allows you to send and receive messages from customers and suppliers quickly, and easily while automating the document exchange process. You can use EDI Studio to exchange inter-company orders and other documents across different Dynamics 365 environments. Using our solution, you can also set up alerts in case of any errors, easily validate orders, track past orders through history management and minimize risks and optimize your supply chain.
Most commonly used EDI documents in Food
Below is a list of some of the most commonly exchanged documents in the food industry:
Order - 850

Purchase Order - 875

Purchase Order Acknowledgement - 855

Invoice - 810

Payment Order/Remittance Advice - 820

Advanced Ship Notice (ASN) - 856

Product Activity Data - 852

Product Transfer and Resale Report - 867

Order Status Report - 870

Delivery/ Return Base Record - 894
How can your organization benefit from using our solutions?
At To-Increase, we offer two solutions for electronic data interchange. The first is EDI Studio and Connectivity Studio for integrated EDI, the second is EDI-2-FLOW in partnership with TIE Kinetix which is an end-to-end solution. Depending upon your scenario and the type of solution you prefer you could evaluate either of them.
Below are just some of the benefits of using our EDI solutions for the food industry:
Quick turnaround: Since food manufacturers, wholesalers and retails exchange large quantities of goods and communication is important, an automated EDI system can ensure sending and receiving messages in real-time.

Lean inventory purchasing: Thanks to the history management feature in EDI Studio, you can track past messages and be proactive about ordering and adjusting orders.

Confirm orders quickly: With better inventory management (as we have covered above), you can set up processes to send these messages in EDI Studio.

Eases the shipping process:

Print SSCC labels directly from the DESADV using TIE Kinetix's 

FLOW platform

.

Streamline processes: Connect your logistics and other systems to your ERP using Connectivity Studio, so you can track shipments and communicate not just with trading partners but also teams within the organization.

Avoid sending incorrect invoices: Documents with errors will be in the staging area and you can set up alerts in EDI Studio to ensure quick validation by the responsible teams.
Is EDI Studio and Connectivity Studio a good fit for your organization?
If you do face any of these challenges that we have shared in this blog and see the host of benefits offered by our solutions and use Microsoft D365 F&SCM, you can consider EDI Studio and Connectivity Studio or EDI-2-FLOW. If not, we hope this blog has helped you realize the potential of an embedded EDI solution and an integration platform combined.
Our integration platform can seamlessly integrate with your ERP and other systems and streamline data across systems, reducing data copying errors, data silos, and other issues that might come up. Additionally, EDI Studio can automate both procure-to-pay and order-to-cash processes and help you streamline operations. While our Connectivity Monitor app can track any broken or slow integrations and also keep a track of EDI messages exchanged. Our Business Integration solutions can help you digitally transform your business processes.
If you are interested in our solutions do read our EDI Studio cost blog. However, if you are looking at an end-to-end solution for all your EDI-related needs from customer mapping to non-EDI, then download our e-book for more information. And if you have any questions, do not hesitate to reach out to our experts.