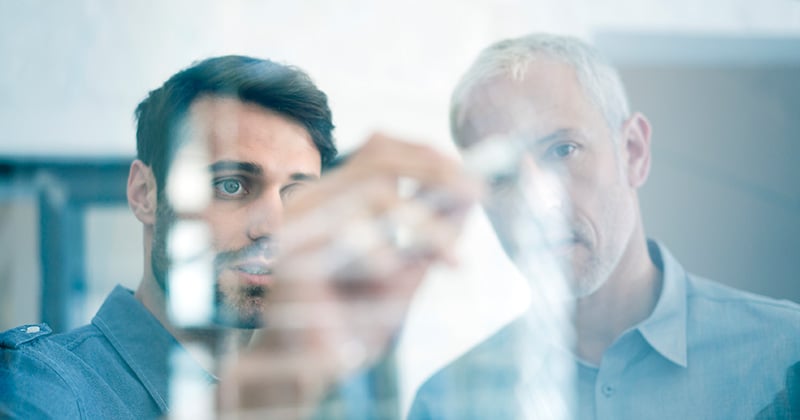 Application monitoring is as important as integration monitoring but they aren't to be confused as the same process as they yield different results. It is possible that some of our customers that have implemented Connectivity Studio might be familiar with Connectivity Monitor but may not have configured it for their integrations. And some of our readers and prospects might be familiar with Azure Monitor and might confuse this application with our integration monitoring application – Connectivity Monitor.

Since we have built Connectivity Monitor to help customers monitor all their integrations set up using our Connectivity Studio for Microsoft Dynamics ERP solution, we wanted to clarify the differences between Azure Monitor and Connectivity Monitor. This will help you decide if you want to set up Connectivity Monitor for tracking your integrations.
Therefore, in this blog, we will cover what Azure Monitor and Connectivity Monitor do and a comparison between the two monitoring tools.
What is Azure Monitor?
According to a report published by Symantec CloudSOC, the average number of apps adopted by enterprises is 928! The biggest mistake an enterprise can make after implementing an application is not having a process to monitor all those apps and that data. Application monitoring makes it easier to collect all the log data to track bugs, performance issues, and delays and improve the performance of the application.
Azure Monitor is a monitoring tool that allows you to collect and analyze data from all your applications that run on Azure's resources on the cloud and on-premises environments. It has a very interactive query language, and an advanced analytics system with embedded machine learning (ML) capabilities. This tool unifies all log data for all your Azure applications, operation systems, and also your subscriptions, all in one place, and visualizes it. Besides monitoring your applications, operating systems, and more, you can export monitoring data into other systems.
Based on Microsoft's overview of Azure Monitor, the tool collects information data from applications into a common data platform. "It correlates data across multiple Azure subscriptions and tenants, in addition to hosting data for other services. Because this data is stored together, it can be correlated and analyzed using a common set of tools." (Source) This can then help you optimize your applications and make sure you have visibility of their performance and can quickly respond to any issues.
What is Connectivity Monitor?
Built on the Dataverse, Connectivity Monitor helps you track the health of your integrations configured using Connectivity Studio for Dynamics 365 F&SCM. The app can also be used to track Electronic Data Interchange (set up using EDI Studio) and Master Data Management (set up using MDM Studio) messages, Logic Apps, and Data Management Logs —all in one place. Better still, Connectivity Monitor can be accessed on mobile devices.
Connectivity Monitor tracks your integrations in a message log, which makes it easy for the users to track the URL when an integration fails. Additionally, using the dashboard, you can check for records with errors, slow and lagging integrations and be proactive and act prior to an integration failure. The app allows you to slice and dice integration errors by project, application, or company.
Since our integration monitoring tool has been integrated with Power Apps, Power BI, and MS Teams as the front-end layers, you can set up notifications for team members to get alerts for any application failure on Teams, so that mean time to repair is reduced. You can also add custom alerts via Power Automate.
Connectivity Monitor Vs Azure Monitor
While Azure Monitor helps you monitor your applications and also share monitoring data with applications, it cannot monitor your integrations that have been set up using Connectivity Studio, that is where our Connectivity Monitor solution fills the gap. Below, we take a few features and elaborate on this comparison even further.

| | | |
| --- | --- | --- |
| Feature | Azure Monitor | Connectivity Monitor |
| Monitor Azure Infrastructures | Yes | No |
| Monitor Applications | Yes | No |
| Monitor data integrations | No | Yes |
| Monitor integration performance | No | Yes |
| Monitor integration warning/errors | No | Yes |
| Combining multiple integration tools | No | Yes |
| Easy to use | No | Yes |
| Proactive follow up with MS Teams | No | Yes |
| Visualizations | Yes | Yes |
Monitor Azure infrastructures
You can monitor the performance and health of your virtual machines within your Azure infrastructure using Azure Monitor but not Connectivity Monitor. So, for example, if you deploy any virtual machine (VM) or infrastructure on Azure and you want to monitor the CPU or memory consumption, and the number of requests the VM receives, Azure Monitor is your go-to tool.
Application performance management (APM)
Azure Monitor allows you to successfully monitor live web apps that you create and/or maintain. Let's say you create an application or a website and host it on Azure. Then you might want to monitor the internal working of the website, how the servers respond to incoming requests, how the logic is performing, and so on.
Monitor data integrations
You have configured integrations between two systems using Connectivity Studio. So, you are moving data between two applications. Connectivity Monitor has the capability to monitor the execution of your integrations in D365 F&SCM and Power Platform, which is something Azure Monitor cannot track. Azure Monitor can be used to monitor each of those applications individually.
Monitor integration performance
Connectivity Monitor can track the performance of your integrations within D365 F&SCM and Power Platforms after you configure those integrations using Connectivity Studio. For example, let's say you have integrated F&SCM and a website. Connectivity Monitor will monitor the integration performance, the response to the APIs integrated with those websites, and Azure Monitor will track the performance of the website itself.
Monitor integration warnings/errors
Connectivity Monitor can provide detailed insights with a dashboard that features lagging integrations, top-performing integrations, records with errors, EDI messages with errors, etc. And for integration failures, you can set up alerts that will be shared in Teams, and your team can find the failure URL in the message logs and quickly take action. Azure Monitor has a message log feature but that tracks the performance of the application only and not the integrations to other applications.
Combining multiple integration tools
If you are using an application integration tool such as Connectivity Studio, and also have integrations using Microsoft's Data Management Framework, you can track those integrations in Connectivity Monitor. Our tool allows you to bring different integration solutions together in one monitoring solution. This is not possible using Azure Monitor.
Easy-to-use solution
If you use Azure Monitor, you require admin expertise, but Connectivity Monitor is based on Power Platform, and that makes it easier to use. Also, we have a graphical dashboard that gives you a quick holistic view of your integration performance at a glance. You can also slice, and dice data as needed for easy reporting. However, Azure Monitor is a lot more sophisticated in comparison to Connectivity Monitor in terms of features, but it is not easy to use and requires development skills and/or configuration set-up. In Connectivity Monitor a lot of key features are pre-configured for you.
Pro-active follow-up with Microsoft Teams
In case of specific integrations that need follow-up, Microsoft Teams is being used to proactively engage with the responsible person of an integration. So you can set up Teams integration in Connectivity Monitor, to activate these notifications. This is not available out of the box in Azure Monitor currently.
Visualizations
Since both are monitoring tools, visualizations are available in both tools for monitoring outcomes.
Pre-requisites
Since Connectivity Monitor tracks the performance of integrations set up using Connectivity Studio, that is a pre-requisite. Azure Monitor is a generic tool for applications hosted on the Azure platform.
Are you keen to explore Connectivity Studio and Connectivity Monitor?
If you are currently using Microsoft Dynamics 365 F&SCM and interested in setting up integrations and also keen on keeping a tab on your integration performance, then explore our Connectivity Studio solution. Our integration performance app Connectivity Monitor is a recently added feature of our advanced integration engine. We also have some exciting new features that are on our roadmap for 2023 for Connectivity Studio. So, do follow our LinkedIn page for more updates and watch our video for a quick overview of our integration solution for D365 F&SCM.
In the meanwhile, you can browse our solution pages, read our blogs, and also download our factsheet, from the link below.